STOP PRESS Cllr. Coghill revealed to have issues with her register of interests forms, and LBWF Director of Governance and Law Mark Hynes now investigating
As this blog has noted before, despite the fact that she long has been a senior figure in the Town Hall, Cllr. Clare Coghill's record over her LBWF register of interests forms is not outstanding.
In 2017, Cllr. Coghill was involved in a muddle about her two visits to the annual Marché International des Professionnels de l'Immobilier (MIPIM), 'real estate's Glastonbury Festival', in Cannes (see link).
Earlier in 2021, research by Walthamstow resident Charlie Edwards revealed that a complaint about Cllr. Coghill's register of interests form was upheld (see link), and she subsequently added the name of her new partner, a Blackpool councillor.
However, more recently still, investigation has uncovered a further issue, perhaps the most serious of them all.
In her 19 June 2014 LBWF register of interests form, Cllr. Coghill declared that she was officer manager for the Labour MP Barry Sheerman: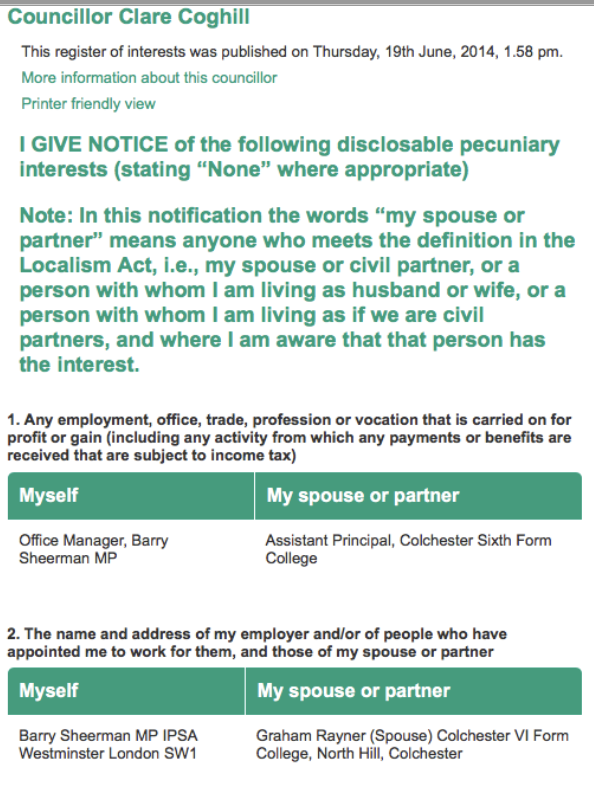 This tallied with information in the House of Commons Register of Interests of Members' Secretaries and Research Assistants, which is updated approximately every six weeks when the House sits.
So far, so clear. But it is what happened thereafter that appears questionable.
Cllr. Coghill next updated her LBWF register of interests form on 14 August 2017, and this made no mention of work for Mr. Sheerman, or indeed any outside employment, see here: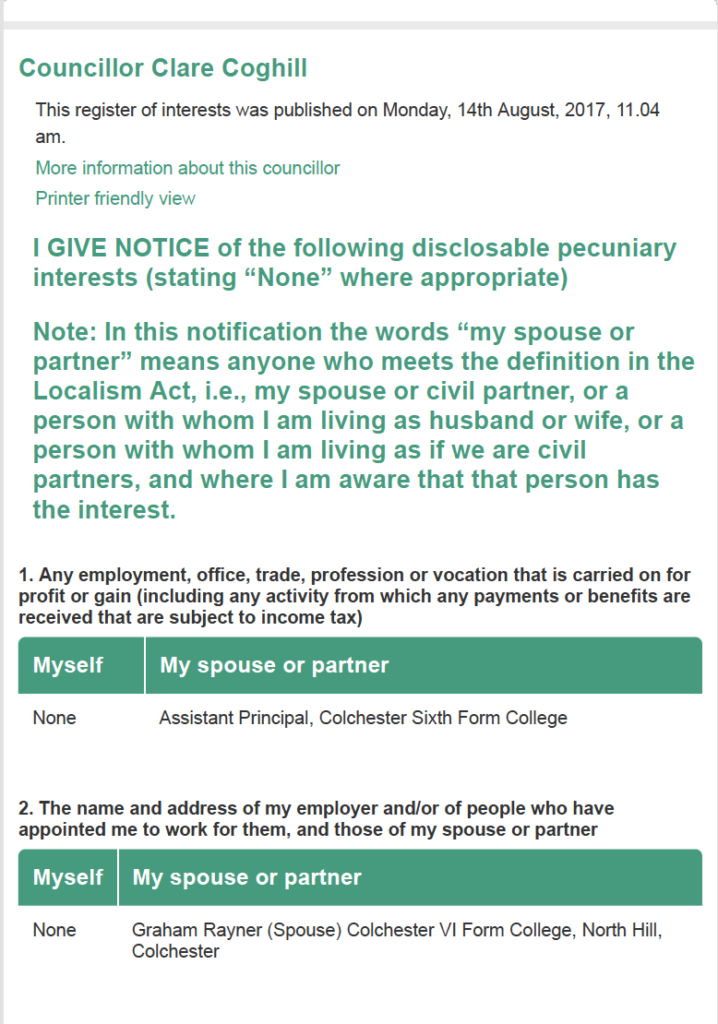 But if the successive editions of the House of Commons Register of Interests of Members' Secretaries and Research Assistants are consulted, they record that Cllr. Coghill was part of Mr. Sheerman's 'staff' all the way through from 2014 until sometime between 30 May 2018, the last time she was listed, and 11 July of the same year, the first time she was not.
How can this discrepancy be explained?
It is useful, before directly addressing this question, to clarify the rules regarding updating interests that LBWF and the House of Commons specify for their respective registers.
LBWF requires councillors to notify the Director of Governance and Law about changes that need to be made to their registers within 28 days of them happening, so that their forms can then be updated.
The House of Commons stipulation is very similar:
'The Register is compiled and maintained by the Office of the Parliamentary Commissioner for Standards. Anyone whose details are entered on the Register is required to notify that office of any change in their registrable interests within 28 days of such a change arising'.
With these points in mind, it seems that Cllr. Coghill has some explaining to do. Since the two registers are not aligned, she needs to state clearly which is accurate and which is not, and what (if anything) she did at the time to sort out the errors, something that in both cases, as has been shown, was her explicit personal responsibility.
Anyway, LBWF Director of Governance and Law, Mark Hynes, now is investigating, and has discussed the matter with the Independent Person, Daniel Fluskey, the grandiosely titled 'Head of Policy and External Affairs' at the relatively little known Institute of Fundraising.
In conclusion, and by way of context, it is worth pointing out that in her time as a Cabinet member, Cllr. Coghill has lived through two separate sets of well publicised controversies about incomplete and misleading register of interests forms, those of 2012 and 2017-18; while in recent years Mr. Hynes has periodically reminded all councillors of their responsibilities, during one presentation, for example, showing this slide: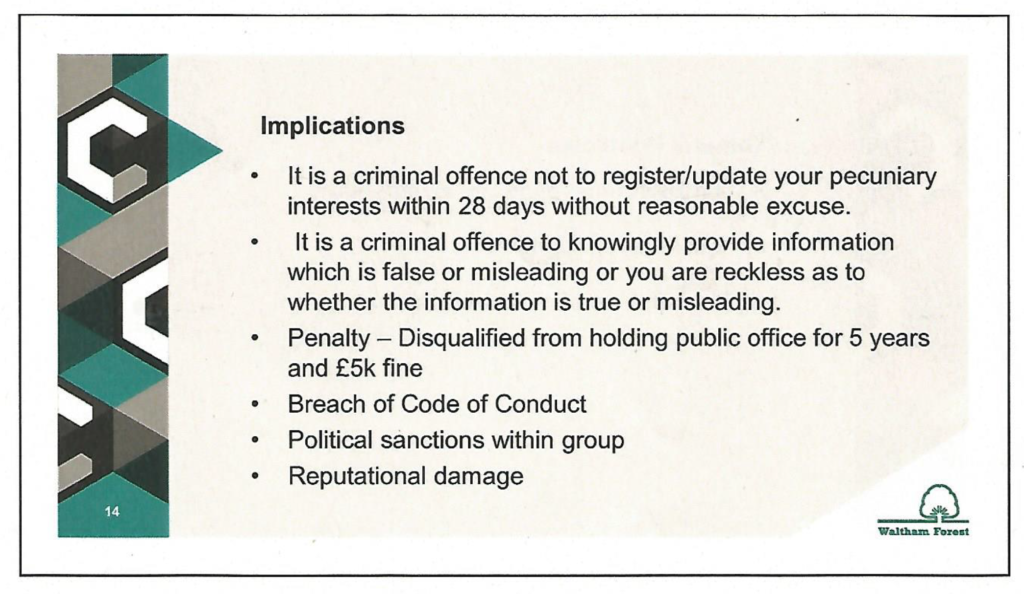 It would be difficult, therefore, for Cllr. Coghill to claim she has been unfairly ambushed.
Indeed, it is incontrovertible that she should have known better than get involved in any further controversy at all.