Cllr. Anna Mbachu's register of interests form prompts new controversy UPDATED
A  post on this blog of early November, cross-referenced below, related that
(a) though senior Labour councillor and chair of the LBWF Housing Scrutiny Committee, Anna Mbachu, had been a director of real estate property and letting company Knice Industries Ltd. since February 2016, she had made no mention of this fact on her register of interests form; and
(b) when questioned about this LBWF Director of Governance and Law Mark Hynes had responded as follows:
'The company Knice Industries ltd [sic] is dormant and had [sic] never traded and that [sic] the councillor has applied to strike the company off the Companies House Register. I have advised the Councillor that strictly speaking the interest should have been declared but given the company has always been dormant is now in process of being struck off [sic] I am satisfied that there is no conflict of interest, nor any continuing interest that need be declared in the Register of Members Interests'.
The post ended by looking at the evidence, and questioning whether Mr. Hynes' understanding was necessarily correct.
Mr. Hynes' statement was penned on 19 October 2017, that is six weeks ago.
So what is the situation as of today?
Has it become any clearer that Knice Industries Ltd. is 'dormant', and 'in the process of being struck off'?
Well, unfortunately, it has not.
On the Companies House website, the entry for Knice Industries Ltd. begins with this: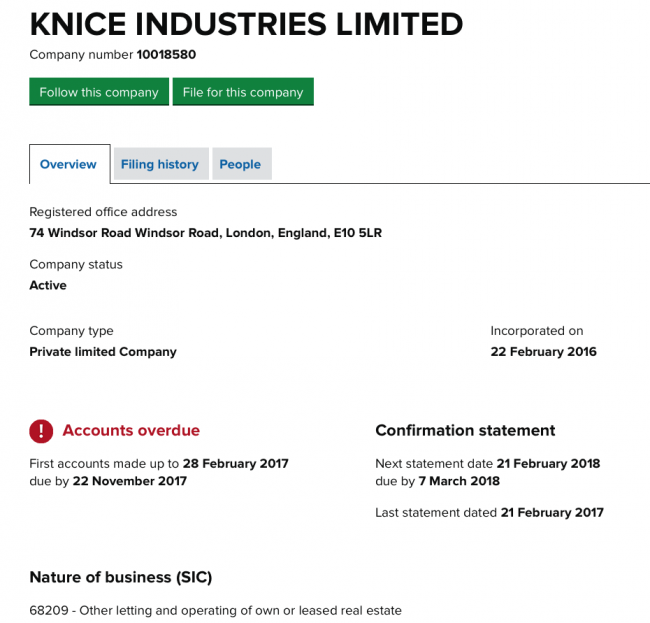 Far from being 'dormant', then, the company is officially 'active', and also (this is new) not being very well run – at least in so far as submitting its accounts on time is concerned.
What about evidence of an evolving strike off?
Companies House documents the liquidation of a company under 'filing history', and for Knice Industries Ltd. displays the following: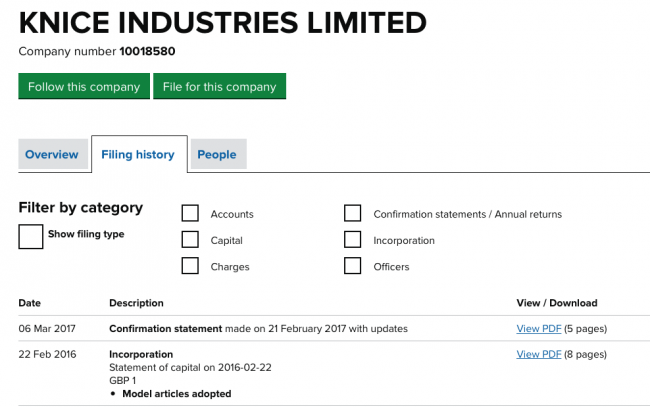 No mention of a strike off there.
This is all becoming a bit embarrassing, and strangely reminiscent of…who am I thinking of?….oh, yes: