LBWF councillors and their register of interests forms: an update and reflection UPDATED
Previous posts have looked at the problems that some councillors are having over accurately filling in their register of interests forms (see links below). What follows summarises the current state of play with the three most egregious cases, all uncovered by residents, and in particular looks at how LBWF Director of Governance and Law Mark Hynes has handled them.
So, starting with the three cases, this is how they stand:
Cllr. Anna Mbachu
In the autumn of 2017, it emerged that Cllr. Mbachu had not disclosed that she was a director of a private property letting company called Knice Industries Ltd., and in fact had been so since February 2016.
Mr. Hynes response was that 'strictly speaking' the interest should have been declared, but since Knice Industries Ltd. had always been 'dormant' and was now in the process of being struck off, he was minded to let the matter rest.
However, concurrent research revealed that according to Companies House (the authoritative arbiter) (a) Knice Industries Ltd. continued to be 'active' rather than 'dormant', and (b) no strike off action had been started.
In late March 2018, Companies House recorded that Cllr. Mbachu had resigned her directorship at the turn of the year, and a few weeks later still Knice Industries Ltd. posted 'First Gazette notice for voluntary strike off' – the initial step in a process which six months before Mr. Hynes had unambiguously stated was already well underway.
Cllr. Khevyn Limbajee
Between 19 June 2014 and 13 March 2018 Cllr. Limbajee's register of interests recorded his sole employment as 'Press Officer, Labour Party'.
However, in March 2018, research showed that (a) according to his Linkedin page, Cllr. Limbajee had stopped working for the Labour Party in 2014; and (b) Companies House listed him as  'a person with significant control' of PR company Tenth Muse Ltd., which had been incorporated on 31 August 2016 and had no other directors.
Moreover, further controversy arose when it emerged that according to the Public Relations and Communications Association (PRCA) quarterly register, Cllr. Limbajee had been employed by Cavendish Communications continuously since sometime between December 2014 and February 2015.
For while it appeared likely that from 31 August 2016 his remuneration for this work was paid through Tenth Muse Ltd., this begged the question as to what had occurred previously, i.e. in the many months that elapsed between his initial employment by Cavendish and the date of Tenth Muse Ltd.'s incorporation.
It was possible (though improbable) that he had worked at Cavendish for free. But if he had received payment of the kind that was subject to income tax, then he should have made an appropriate declaration on his register about that, too.
In response to these separate pieces of information, Mr. Hynes asserted: 'although Cllr Limbajee should have ensured that the Register of Interests was accurate and updated I am satisfied that it was a genuine oversight on his part'.
Cllr. Simon Miller
In the run up to the recent local elections, questions arose about whether Cllr. Simon Miller was eligible to stand as a candidate in Waltham Forest, as he works in Maidenhead, and on the statutory notice that had been issued, his address was given as 'Flat 6, Newbury Court Herman Hill London E11 2BG', which is in Redbridge, thus apparently disqualifying him under Electoral Commission regulations (for which see https://www.electoralcommission.org.uk/__data/assets/pdf_file/0007/141784/Part-1-Can-you-stand-for-election-LGEW.pdf)
Notified of this, on 23 April 2018 Mr. Hynes advised:
'In relation to Simon Miller's eligibility to stand in the forthcoming local elections I am satisfied as the Deputy Returning Officer for those elections that he has a relevant property interest within the Borough which has been properly identified on his nomination paper namely that he has occupied (as owner or tenant) land or other premises at 200A Chingford Mount Road, London, E4 8JR (the Ma-Wah Gallery) for the last 12 months…However it is clear that Cllr Miller has not updated the Council's Register of Interests to reflect this property interest and Cllr Miller's Register will be updated tomorrow…I am grateful to you for bringing this matter to my attention'.
It is worth underlining that prior to 23 April 2018, Cllr. Miller had last updated his register on 7 April 2015, meaning that his interest in Ma-Wah went unacknowledged for a whole year.
So much for the three cases. The facts are incontrovertible. But opinions will differ about Mr. Hynes repeated exoneration of those involved. Is his stance justified?
Mr. Hynes, as has been noted, is LBWF Director of Governance and Law, but though, as the screenshot below demonstrates, the authority seems to have difficulty acknowledging it, he is also LBWF Monitoring Officer (MO), and this is particularly pertinent here.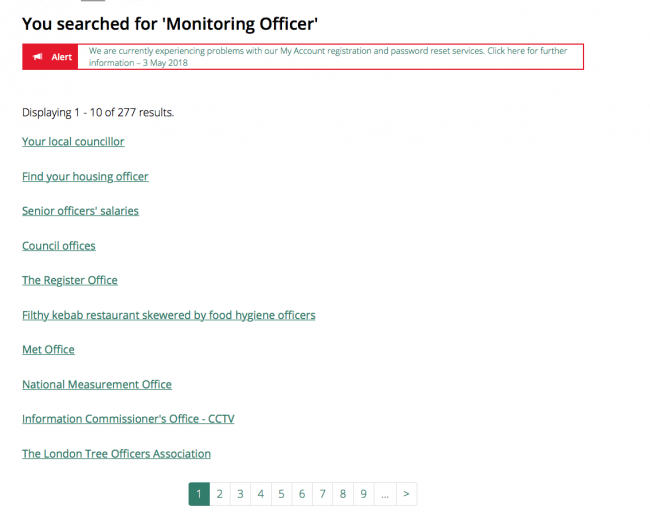 For as MO, Mr Hynes not only has general responsibility for ensuring all constituent parts of LBWF (including councillors) are compliant with the law, but also specific responsibility for the Code of Conduct of Members (part nine of the council's constitution), which at para 4.5 requires 'Every Member…to notify the Monitoring Officer of their pecuniary and non-pecuniary interests (as defined in this Code) before the end of 28 days beginning with the date when s/he becomes a member of the authority', and at para 4.6 instructs that new interests 'should be registered in accordance with this Code from the date they take effect, e.g. when a new job starts or the date a member moves house'.
And in relation to this remit Mr. Hynes also has powers of enforcement, which range from censure through to the pursuit of criminal charges in cases where a member deliberately and wilfully fails to make a full declaration.
All this is very clear-cut. What complicates matters, however, is the fact that Mr. Hynes has then gone on, as already observed, to introduce further considerations of his own, asking for example whether breaches are mitigated by other factors, or perhaps stem from 'genuine' oversight.
Such willingness to supplement the publicly available guidance is surprising. For one thing, Mr. Hynes seems to have forgotten that circumstances can be aggravating, not just mitigating. All three of the cases discussed involve senior councillors, who were also Cabinet members. Each had experience of the register (having read the guidance and filled in the forms at least once previously). Nor can it be said that the system as a whole has become more difficult to comprehend, in fact quite the opposite. Yet none of this apparently figures in Mr. Hynes' calculations.
In addition, by moving from strict observance of the rules to a more interpretation-based approach, Mr. Hynes inevitably is faced with difficulties about evidence. To take one obvious example, establishing that an oversight was 'genuine' as opposed to contrived is no easy matter. The miscreant may swear they 'forgot' or come up with any one of the tried and tested excuses ('my dog ate the paperwork') but such pleading is not enough to establish innocence. Mr. Hynes no doubt will have considered such matters carefully, but it hardly inspires confidence that when recently challenged to justify himself on this very point, he declined, retorting: 'I am not prepared to engage further…on these three complaints (Cllr Miller, Cllr Limbajee and Cllr Mbachu) which have been dealt with and closed down'.
Taking everything into account, this whole episode leaves an unsatisfactory taste in the mouth. Put bluntly, it is established that:
(a) three senior councillors have been caught with their pants down;
(b) the inaccuracies in each of their registers were revealed by private citizens, rather than those who are paid to take responsibility; and
(c) had it been left to the latter, incorrect and misleading information about the nature and extent of these councillors' interests would still be in circulation today.
Mr. Hynes now states that 'as part of the planned induction and training program for all members following the election I will be personally running a session on this in order to ensure full compliance [with the code]'.
Such a promise has been made several times before, the last time in 2012 after the events described here:
http://www.guardian-series.co.uk/news/9527377.WALTHAM_FOREST__Concern_over_councillors__register_of_interests/
The hope is that Mr. Hynes will learn from what has happened. The likelihood, given what this post has revealed, is that we will simply go round the same circle again.
UPDATE
Something I meant to include in the original post.
The official DCLG guidance (Openness and transparency on personal interests. A guide for councillors (September 2013) states:
'What happens if I don't follow the rules on disclosable pecuniary interests? It is a criminal offence if, without a reasonable excuse, you fail to tell the monitoring officer about your disclosable pecuniary interests, either for inclusion on the register if you are a newly elected, co-opted or appointed member, or to update the register if you are re- elected or re-appointed, or when you become aware of a disclosable pecuniary interest which is not recorded in the register but which relates to any matter…that will be or is being considered at a meeting where you are present, or…on which you are acting alone' [emphasis added].
Cllr. Limbajee, as noted, apparently failed to declare one interest, possibly two, over a period of several years.
Since Mr. Hynes exonerated him, his excuse must have been 'reasonable'.
Please send in your suggestions as to what this 'reasonable excuse' was (without reference to animals, unless absolutely unavoidable).
The person making the most plausible guess will be invited to a reception hosted by the Mayor in her parlour, and presented with a LBWF shield.