LBWF Leader Clare Coghill's MIPIM muddle (1)
In 2012, the Waltham Forest Guardian reported that councillors were finding the requirement that they fill in and then update their register of interest forms to be challenging. Some had missed out crucial details, with, for example, the Leader, Chris Robbins, neglecting to mention his family home. Others – incredibly – overlooked their party membership. A few had simply failed to keep their forms up to date. In response, LBWF stated that it was introducing 'a new website' which would 'be easier to use, with less duplicated information'. On the quiet, it also trimmed what councillors in future had to declare.
I was reminded of this amusing episode when compiling the previous post on LBWF's new interest in property development, because it turns out that in 2016 Cllr. Clare Coghill, then a mere Cabinet member, now Leader, had journeyed to Cannes for Marché International des Professionnels de l'Immobilier (MIPIM), 'real estate's Glastonbury Festival', prompting the obvious question: who paid?
Initially, the answer appeared to be fairly straightforward, and indeed publicly stated at a scrutiny hearing. The council had not provided any funding. All costs had been 'covered by the private sector'.
So far, so good. But when I checked Cllr. Coghill's register of interest form on 2 August 2017 (that is, just hours after I had published my previous post) the plot thickened.
My expectation was that the support which Cllr. Coghill had received from the private sector would be detailed under Section 3. But in fact there was nothing: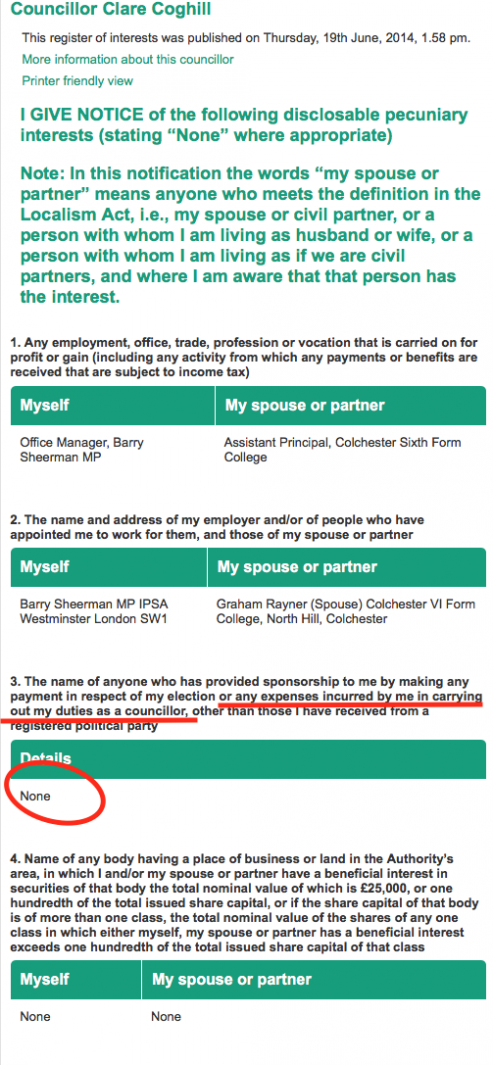 However, roll forward four days, and the situation has changed very significantly. Unlike mere rank and file councillors, and also her direct predecessor, Cllr. Coghill now no longer has a register of interest form on the LBWF website pages. What she still does have though, like all her colleagues, is a personal page, which looks like this: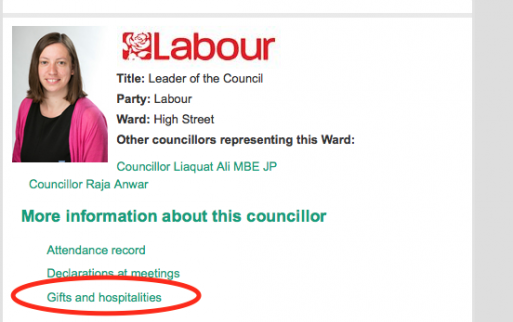 Such sudden editing in itself is strange, and smacks of panic, but at least in the leftovers there is a link to 'Gifts and hospitalities', and clicking on that for the requisite time period reveals the sought after information: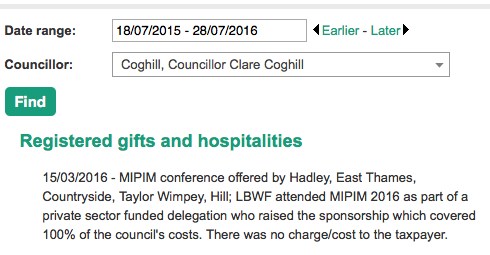 Better make a declaration late than never, needless to say, but the fact Cllr. Coghill for so long neglected to update her register of interest form is reprehensible, and suggests an unhealthy indifference to the detail of transparency.
After all, in terms of council matters, at least, Cllr. Coghill is hardly wet behind the ears. And not to update is also a serious breach of the LBWF code of conduct, though it is true that few in the Town Hall seem to care much about that nowadays.
But there is more.
Because a Google search quickly reveals that Cllr. Coghill also attended MIPIM at Cannes in March 2017. Indeed there are pictures of her there (she is second right in this one),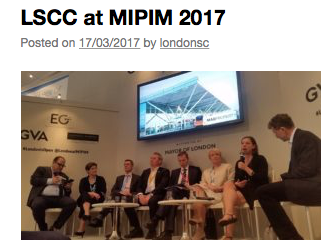 together with a record of her address:

So who paid for her second visit?
Consulting Cllr. Coghill's personal webpage draws a blank. Clicking the relevant time period  brings up the declaration of a gift which we would all appreciate, but nothing related to MIPIM: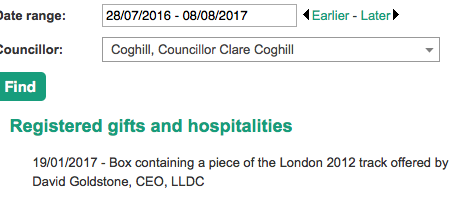 But this again is peculiar, because as my previous post has already pointed out, Inside Housing journalist Nick Johnstone was certain that the LBWF delegation's expenses at MIPIM 2017 were at least in part paid for by the private sector:

Will we have to wait another another year and a half before Cllr. Coghill deigns to declare the private sector support which she received for her 2017 appearance?
Or is Mr. Johnstone wrong, and it is us residents who stumped up the cash for this second Cannes Cannes jaunt?
All in all it's a MIPIM muddle.