Cllr. Limbajee, Cllr. Mbachu, their register of interests forms, and LBWF's Director of Governance and Law Mark Hynes: the controversy continues
The controversy over the register of interests forms posted by Cllrs. Khevyn Limbajee and Anna Mbachu, covered by this blog recently, is mushrooming, with even the officer in charge of enforcing the rules, LBWF Director of Governance and Law Mark Hynes, apparently struggling.
Let's take Cllr. Mbachu first, because her case is fairly straightforward.
It will be remembered that she has been a director of an 'active' company called Knice Industries Ltd. since February 2016, but has never disclosed this fact on her LBWF register of interests form; and that when challenged about this in mid-October 2017, Mr. Hynes excused her non-declaration in part because 'the councillor has applied to strike the company off the Companies House Register'.
So what has happened about the strike off which, all those months ago, Mr. Hynes stated was already underway? Consulted today, Companies House reveals all: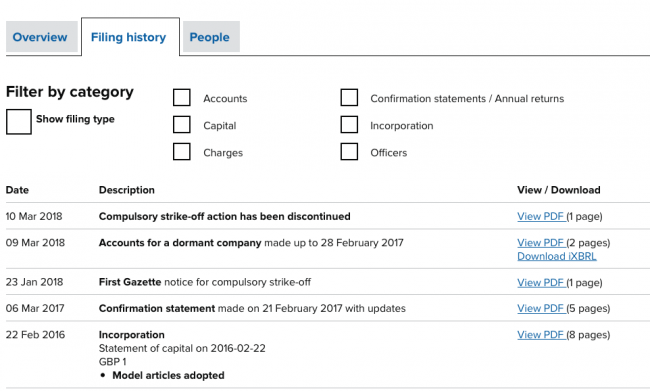 There is mention of a strike off, true, but it occurred earlier this year, not during or before October last; was compulsory in nature, i.e. instituted by Companies House, because Knice Industries had failed to submit its returns on time; and anyway now has been discontinued.
And of Cllr. Mbachu instituting voluntary proceedings, as Mr. Hynes reported, there is no sign at all.
Turning to Cllr. Limbajee, the situation is a little more complicated.
In his register of interests form of early March 2018, Cllr. Limbajee stated that he worked for the Labour Party, period. However, closer inquiry at that time revealed that for a couple of years a Cllr. Limbajee had been an 'employee' of Cavendish Communications. The obvious question, in terms of the LBWF register of interests, was whether this was one and the same person.
What now can be revealed is that, as the football chant goes, there's only one Khevyn Limbajee, with Cavendish Communications helpfully providing the following mug shot and profile:

So is Cllr. Limbajee in error in failing to declare this interest?
Mr. Hynes is still investigating, but in an initial response, he seems to believe not:
'I will pick this issue up directly with Cllr Limbajee but my understanding is that the work that he undertakes with Cavendish is ad hoc and on a consultancy basis. I would not expect councillors to list all the different projects or assignments they undertake for a wide range of third parties. However if he was involved in any decision in his official capacity as a councillor that related to Cavendish then he would have to declare a disclosable pecuniary interest and not take part'.
The problem here is My Hynes' understanding of the rules.
The wording on the declaration of interests form is unequivocal. Councillors are to declare 'Any employment, office, trade, profession or vocation that is carried on for profit or gain (including any activity from which any payments or benefits are received that are subject to income tax)' [emphasis added].
So unless Mr. Hynes is suggesting that Cllr. Limbajee worked at Cavendish Communications for free, or for some reason did not disclose his income to HMRC, his comments are simply irrelevant, and it is rather worrying that he even made them. It is after all a reasonable expectation that senior officers should be completely familiar with the rules that they are responsible for enforcing.
However, this is by no means the end of the Cllr. Limbajee farrago.
For on 14 March 2018 – that is three days after this blog had first focused attention on the matter – Cllr. Limbajee revised his register of interests form to read as follows: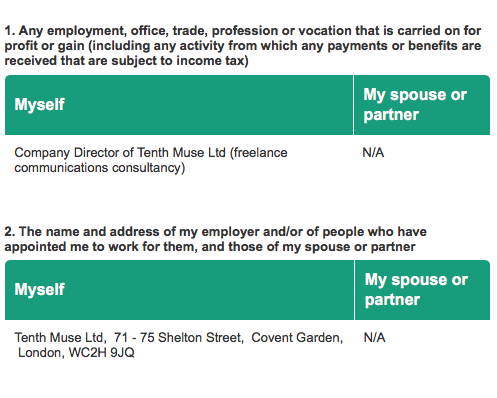 Again consulting Companies House, it turns out that Cllr. Limbajee has been a 'person with significant control' at Tenth Muse Ltd. since 31 August 2016.
So if he believes it right to declare this interest now, why did he not do so from the start? And when exactly did he leave the Labour Party's employment? Material changes need to be declared within 28 days (see below). So if the break happened before late January 2018, that also should have been disclosed.
Finally, as regards Cllr. Limbajee, it is legitimate to move away from a narrow focus on his register of interests form, and inquire a little more generally about what exactly he was doing at Cavendish Communications.
The company holds a number of accounts, which it lists on the Public Relations and Communications Association (PRCA) quarterly register.
One of those named is Crest Nicholson Regeneration, which according to its website is involved in a substantial Walthamstow development: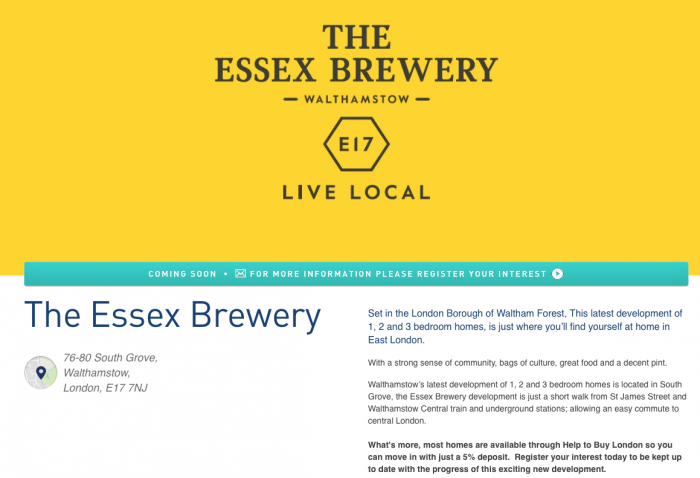 Councillors sometimes face tricky situations in terms of the way that their civic responsibilities and employment situations interact, but they know the importance of transparency, and there is plenty of advice around about how to avoid pitfalls.
Cllr. Limbajee is an experienced and senior figure who no doubt will have put in place arrangements to ensure that his work for Cavendish and his Town Hall responsibilities were kept rigorously seperate.
However, given the current controversies over Walthamstow's redevelopment, it surely would be sensible for him to publicly state what these arrangements were.
In conclusion, there will be some of who, in true Corbynista style, dismiss the subject of this post as footling detail, or an attempt at a smear.
However, the reality is that not only are the rules governing interests an essential part of a healthy democracy, but the guidance for councillors in Waltham Forest is crystal clear:
'Local councillors have to abide by a code of conduct, part of which requires them to declare any interests which they have which could be seen to influence any decisions they may make as councillors. The local authority is required to publish these declarations.
 Public confidence in the council 
Members are required to register certain interests in order to: Ensure public confidence in the probity of the council; Maintain the accountability of its members; [and] Maintain transparency of local government decision-making
The code of conduct requires all members to: Complete a register of interests form at the beginning of their term of office, whenever the council adopts a new code, or whenever requested to do so by the Monitoring Officer…The register records pecuniary (financial) interests for councillors and their spouse or civil partner; and they must keep the form updated…Any changes must be reported within 28 days…[and] This register is open for public inspection at the Town Hall and on the council's website'.
As this blog has remarked before, it says everything about LBWF, and in particular its ruling Labour Group, that when it comes to application, and clear as they may be, these rules seem to be routinely overlooked, resulting not in clarity but only miasma.