Walthamstow resident and community activist Charlie Edwards dismantles LBWF's claim that it 'consulted' before installing 500 new bike hangers
In the past, this blog has been somewhat sceptical about LBWF's Mini-Holland and associated 'active travel' interventions, primarily because when the bombast was stripped away, careful investigation often showed that the underpinning evidence was surprisingly weak, as case studies of, first, a consultation about bike hangers in South Leytonstone, and, second, the King's College Environmental Research Group analysis of local air quality vividly illustrated (see links, below).
Regrettably, a more recent development suggests that this unhealthy approach to due process, perhaps also the truth, remains alive and kicking.
In early December 2022, LBWF issued a press release which announced: 'People living in Waltham Forest will benefit from an extra 3,000 bike hangar spaces after the council announced plans to install over 500 new bike hangars in residential areas across the borough, helping to reduce the substantial waiting list'.
Hearing of this development, long-time Walthamstow resident and community activist Charlie Edwards was worried. Parking where he lived was already at a premium because a nearby youth centre inflated the demand for spaces. Moreover, Mr. Edwards' personal circumstances meant he was particularly likely to be adversely affected by any change, a point he made forcefully in an e-mail to LBWF:
'I was never consulted about these hangers despite at least one of them taking away much needed parking space…Being disabled and having access to assistance is essential for me to keep living independently. Can you explain to me where the district nurse is supposed to park? Why don't you think about the consequences of taking away parking spaces before…blindly going ahead and spending thousands of pounds on unwanted bike storage'.
Subsequently, Mr. Edwards (hereafter CE) and a LBWF Project Manager (hereafter PM) engaged in an e-mail exchange which developed as follows:
PM to CE 06/02/23
'Thanks for getting in touch. All bikehangar proposals undergo a thorough consultation process that includes a site notice, letter drop, and advertisement in the local paper and council website. As the proposals are for the reallocation of half a car parking space and a majority of all the available parking space on roads that are considered remains for the parking of cars I believe it reasonable to conclude that a district nurse who was able to park prior to the installation of a bikehangar would be able to park following its installation. Of course if there is evidence to the contrary I will be happy to consider it and make adjustments as necessary. I can assure you that consequences of this programme are thoroughly considered and all proposals are rigorously assessed prior to installation'.
CE to PM 06/02/23
'Thanks for your response. Can you send me a copy of the consultation document please?'.
PM to CE 21/02/23
'Really sorry about the delay in getting back to you. Please see attached'.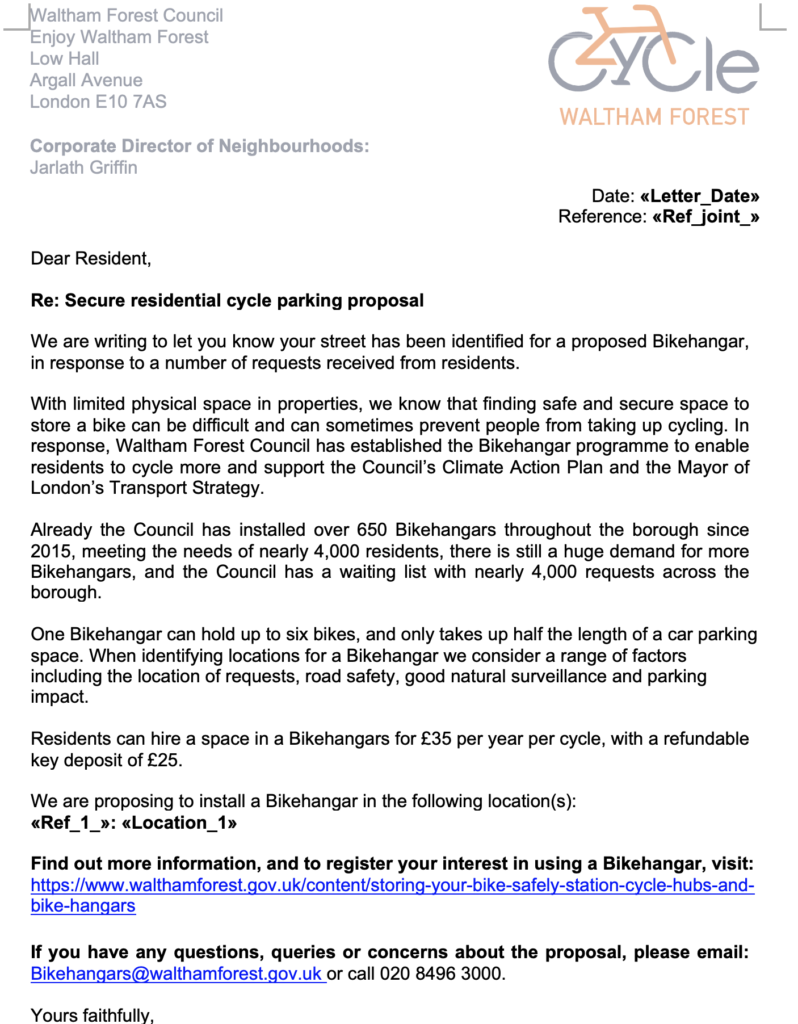 CE to PM 21/02/23
'Thanks for your response. Just to point out this is not a consultation but a link to manage and request interest in a bike hanger…Where on this page do I express my concerns about the negative impact of removing car spaces? Where is the consultation? Where is the EQIA [Equality Impact Assessment]?'.
PM to CE 22/02/23
'The statutory consultation closed on the 3rd of Feb but I am happy to receive and review correspondence regarding new proposals any time prior to installation. I can confirm this is a consultation and any concerns, questions, or objections can be submitted directly to the Bikehangar team, via the TMO section of the website or via the traffic scheme inbox for consideration as part of the decision making process on all bikehangar proposals. As said anything received during the statutory consultation process as part of the TMO will be formally considered but anything received subsequently will still be reviewed to ensure proposals are robustly assessed and any and all concerns are considered'.
CE to PM 22/02/23
'Thanks for getting back to me. The reason I'm objecting…is that in Dec 22 Clyde Loakes announced that we would be getting bike hangers, 3 months before the end of the consultation period in Feb. Thus meaning that consultation results were already decided'.
PM to CE 27/02/23
'I believe you are referring to a previous consultation that was undertaken and completed prior to Cllr Lakes announcement. No announcement that I am aware of on the current consultation was undertaken prior to its completion'.
CE to PM 03/03/23
'So just [to] be clear, the announcement in Dec was relating to future bike hanger not yet consulted on? And the bike hangers your consulting on that finished 3rd Feb are part of those 500?'.
PM to CE 07/03/23
'That is my understanding yes'.
CE to PM 07/03/23
'So the bike hangers were announced that they would be installed in Dec 22 before the consultion [sic] had finished in Feb 23. Consultation had one result then. If that's the case then can I raise this as a formal complaint as it breaches the Nolan principles that the council is supposed to uphold?'.
PM to CE 09/03/23
'I'm sorry but you have lost me. At no point are Bikehangars confirmed for installation prior to consultation and sign off. An announcement might be made on a total number of hangars to be delivered in the future but the specifics of what units are installed will still be subject to the due process and associated consultation that all proposals go through. My assessment is there is no breach as you describe but if you are unhappy with the process then you can raise a formal complaint on the council website'.
Subsequently, Mr. Edwards, as advised, has submitted a complaint which awaits adjudication.
It will be interesting to see whether LBWF admits to what is really nothing less than a sleight of hand.