Love amongst the Leaders: Councillors Clare Coghill and Simon Blackburn
For the past few months, Labour members in Waltham Forest have been agog about the evolving private life of their supremo, Cllr. Clare Coghill.
Now Cllr. Coghill has set the record straight, posting that she is happily embarked upon a relationship with the Leader of Blackpool Council, Simon Blackburn.
People of goodwill from across the political spectrum will no doubt join this blog in wishing the couple well.
Nevertheless, the story is not without its entertainments.
Three pieces of background information are essential.
Cllr. Blackburn, most appropriately, is an ardent fan of Blackburn Rovers football club.
Near neighbours Blackpool and Blackburn football clubs are bitter rivals.
And one delight when visiting Blackpool is a ride across the town's golden sands on its famous donkeys: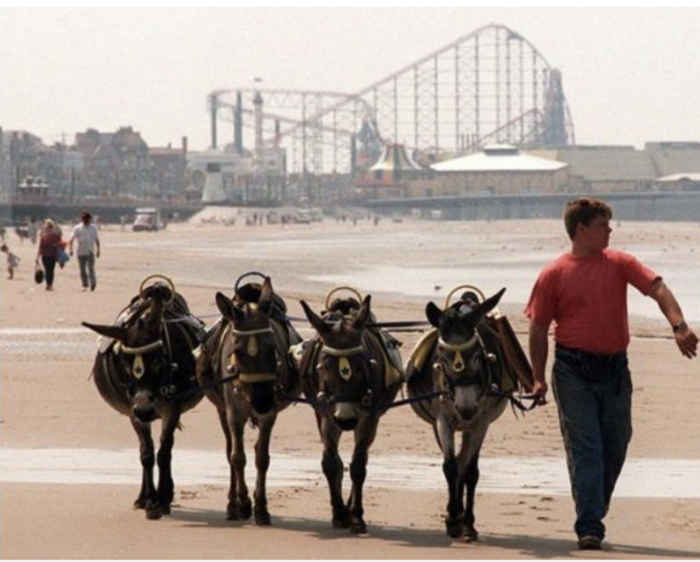 So to the nub.
In 2011, Blackpool hosted Blackburn in a local derby, and at one point were two goals ahead.
Cllr Blackburn was clearly gutted, and posted on Facebook '"Oh my actual God…the donkey-botherers are 2-0 up thanks to two of the worst refereeing decisions ever!"'.
He apparently meant this only for his friends, but because his privacy settings were awry, his jibe was subsequently picked up by fan forums, then featured by British newspapers from the Blackpool Gazette to the Sun and Guardian, and in the end ricochetted off around the world.
Few were much impressed.
Cllr. Blackburn was widely accused of stabbing Blackpool people in the back. A columnist in the Liverpool Echo called him a 'hapless and blundering buffoon'. The Leader of the Conservative Group on Blackpool council thundered '"What an unbelievably stupid, ridiculous, crass thing to say"', while one of the latter's colleagues helpfully explained (with fitting punctuation) that what Cllr. Blackburn had posted was a clear reference to '"Having sex with ruddy donkeys!"'. Even a rather more sober Blackpool Liberal Democrat couldn't resist a dig, accepting that '"This was just a bit of fun at a football match, and knowing Simon as I do, it is his sense of humour"', but adding '"However, he will definitely learn from this – he knows he needs to eat fewer East Lancashire pies and change his accent before we truly accept him"'.
Outside of Britain, the initial reaction was consternation. What did 'donkey-botherer' mean? Was it translatable into other languages? But as the truth sunk in, so doubts about Cllr. Blackburn surfaced, with one overseas blogger commenting:
'Not being up to speed with the proclivities of the people of Blackpool, England, I cannot say if the allegation is true, but it seems to be a fairly universal rule of politics that, if you're holding any kind of elected position, you probably don't want to suggest that your constituents screw donkeys. It's just common sense'.
In the face of such criticism, Cllr. Blackburn predictably 'apologised for any offence caused', and vowed not to use the expression 'donkey-botherer' again.
What provokes some amusement, then, is that Cllr. Coghill, who as this blog has previously noted takes all matters PC very seriously, has hooked up with a man whose greatest claim to popular fame (passing resemblance to Cllr. Clyde Loakes aside) is a prime slice of laddish banter.
As the old Blackpool postcard has it: