The East London Credit Union: some new facts, but confusion, maybe evasion, persists
 Last month, LBWF divulged some more information about its subsidisation of the now collapsed East London Credit Union (ELCU).
The focus is on a large grant that LBWF awarded to ELCU in 2015 in order to help it support vulnerable residents and small businesses.
Previous references to this grant were both contradictory and deficient as to important details.
In a book published during 2017, a chapter co-authored by then ELCU CEO Michelle Howlin claimed that, two years earlier, LBWF had made 'a £500,000 investment [in ELCU] to deliver a range of initiatives, including business lending'.
Yet in a supposedly definitive listing of all LBWF payments to ELCU from 2014 onwards, forwarded under the Freedom of Information Act in October 2019, though there was mention of LBWF providing grant-aid of the type referenced by Ms. Howlin, the sums involved were said to be only £225,000 in 2015-16 plus a further £34,500 in 2017-18, in total £259,500, that is, nothing like her £500,000.
Other related developments added to the sense of uncertainty. Though LBWF had stated that it paid ELCU on the basis of either invoices or 'email payment request', when challenged, it was unable to produce either. Meanwhile, a careful search of LBWF's published 'transparency' pages which purportedly list every item of council expenditure over £250, month by month, also drew a blank. Indeed, between January 2015 and December 2018, no payments to ELCU of any kind were recorded (see note below).
So has LBWF now clarified the picture?
There are five documents to consider:
(a) an ELCU financial plan, detailing how £500,000 is to be spent on five 'new initiatives'  over the course of the year October 2015 to September 2016, the 'new initiatives' being an online platform, loan capital for residents, loan capital for businesses, a bespoke business lending product plus associated marketing, and wider engagement with the 'hard to reach';
(b) an ELCU monitoring report for the first quarter;
(c) an ELCU monitoring report for the third quarter;
(d) a LBWF table of 10 Key Performance Indicators (KPIs), summarising both target and actual outputs for the first three quarters; and
(e) a LBWF schedule of payments and spend covering all four quarters.
In passing, it is worth noting that none of these documents are dated, and only one (the later ELCU monitoring report) is on headed paper. Moreover, the LBWF material, at least, seems to have been put together very recently, cut and pasted from elsewhere.
That said, there is an interesting story to tell.
The sequence of events apparently unfolded as follows. In October 2015, LBWF paid ELCU an advance of £225,000 to cover the first two quarters, and ELCU began working on its five 'new initiatives'.
ELCU's quarter one monitoring report was broadly positive. However, at the end of quarter three, it was revealed that ELCU had not yet even spent its initial advance, and also had performed badly in terms of KPIs, with progress in creating an online presence and upping business loans being especially unpromising, as this table demonstrates: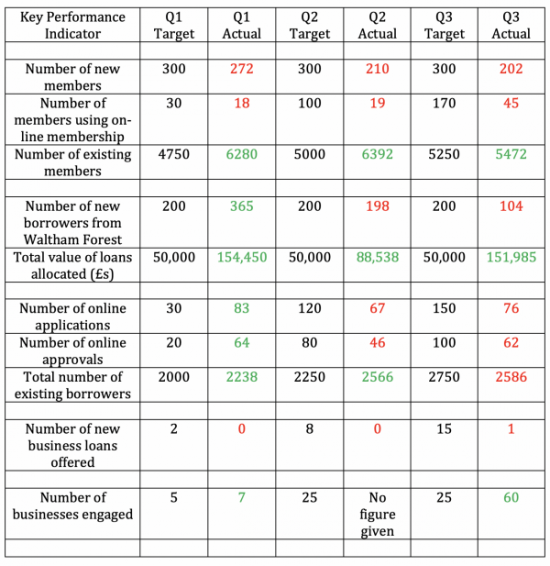 In response, LBWF first agreed to provide ELCU with one further quarterly payment of £34,500 (though, mysteriously, this was not handed over until 2017-18) and then decided to call it a day, with £240,500 of the proposed £500,000 budget 'withheld'.
Who bears responsibility for this unhappy episode? ELCU's plans were clearly ambitious, but they also lacked detail about practicalities and costings, and this inevitably had damaging consequences. A passage in the monitoring report for the third quarter is particularly revealing:
'Loan Capital for Waltham Forest Businesses
During Quarter 1, we worked with external stakeholders to develop a bespoke package for the Local Businesses based in LBWF. As a result we had a huge engagement with local businesses…
By the end of Q3 we had processed 1 Business Loan for £15,000.
Unfortunately the new banking software did not come equipped with Business loans functions. The new Chief Executive of ELCU and the Board of Directors understand the urgency of the issue…
We have invested heavily in time and resources for developing and marketing our business loan product and have members waiting for this product to be available in the market.
These members will be contacted as soon as we have this facility available again which will enable us to meet and exceed our targets for LBWF funding that has provided ELCU with a strong and secure economic future'.
However, if ELCU to some extent shot itself in the foot, LBWF was also culpable. Forensic examination of ELCU's plans from the start would have focused minds on preventing pitfalls such as buying unsuitable software. Similarly, it was surely a mistake to skip over monitoring at the end of quarter two, as that narrowed the scope for corrective action.
It is also reasonable to ask why LBWF was willing to provide support in the first place.  ELCU was set up to help poorer people in the borough access banking facilities, and the provision of public money for that purpose was reasonable. But when ELCU started targeting private companies, should LBWF have acquiesced? The two kinds of lending were very different, significantly increasing risk. In addition, many mainstream financial organisations already catered for corporate clients. Perhaps if evidence existed of local market failure – of companies being unable to obtain the desired level of outside funding – LBWF involvement might have been merited, but no such possibility was ever mentioned.
The final point is perhaps the most important. Local authorities have a duty to protect the public purse by ensuring that when financial support is offered to third parties, it is on the basis of comprehensive due diligence, with independently audited annual accounts always a key consideration.
Yet if LBWF had evaluated ELCU in this latter respect prior to granting it £500,00 in October 2015, it would have found that ELCU – operating on a September to September financial year – had still not finalised its 2013-14 accounts; and was only starting the compilation of those for the year just ended (in fact these were not signed off until 16 March 2016).  So, in short, an accurate evaluation of where ELCU stood financially was almost impossible.
In conclusion, the evidence rehearsed here reinforces the impression – discussed in previous posts – that in some respects ELCU was poorly run. But, that accepted, quite why LBWF continued to play the role of indulgent parent remains a mystery. What raises eyebrows, too, is the fact that so much of the support provided lacked normal documentation. Indeed, LBWF seems to have treated ELCU in ways that not only contravened its own rulebook, and but also – perhaps deliberately, perhaps not – severely limited the possibility of outside scrutiny.
Given that ELCU received a large amount of public money down the years, and of course, subsequently collapsed into administration, causing anxiety and loss, the need more than ever is for some answers – and answers, needless to say, that are more than shafts of haze.
NOTE
The 'transparency' pages on LBWF's website (https://walthamforest.gov.uk/content/council-transparency) list each item of expenditure month by month in the following format:

The search terms used here were 'Waltham Forest Community Credit Union' (which LBWF states was the name that appeared on the alleged invoices between itself and ELCU) and 'East London Credit Union'.