The East London Credit Union crashes into administration, leaving several important questions unanswered
On 11 September 2019, the East London Credit Union (ELCU), trading as the Waltham Forest Community Credit Union, collapsed into administration. Simultaneously, the UK Financial Services Compensation Scheme announced that it was stepping in to safeguard ELCU's 5,500 members' deposits, valued at £2.25m, and most could expect like-for-like payment within a week. The administrator, LBWF, and the East London and West Essex Guardian posted similar reassurance.
In some ways, this upshot was surprising. Credit union failures are not unknown – on average, about seven go bust every year. And although UK credit union membership has increased significantly, the number of UK credit unions has declined, as small players either die off or merge to survive.
However, these facts accepted, ELCU appeared to be in a relatively favourable position. It boasted a number of high-profile supporters, including Walthamstow MP Dr. Stella Creasy, London Assembly Member Jeannette Arnold, and various trade unions and local voluntary sector organisations. It could call on considerable expertise, with, for example, Bilal Mahmood, Senior Legal Counsel for the giant China Construction Bank, a one-time director. It was good at attracting grants from the likes of the Big Lottery Fund. And, most of all, it had a close relationship with LBWF, illustrated by the fact that several councillors were ordinary members, Cabinet portfolio holder Paul Douglas served on the ELCU board, and generous council grant aid (including a £500,000 'investment' in 2015) had been forthcoming down the years.
So, what went wrong?
On 16 September, and apparently in response to concerns raised by residents, Dr. Creasy posted a statement on her website from the ELCU board of directors, the key paragraphs of which were these:
'ELCU chose to join the DWP-sponsored Credit Union Expansion Project in 2016 in the hope and expectation that this new platform would expand our services to members. However, errors were made in the roll-out of the platform and the new system failed to live up to expectations – it caused errors in members' accounts and system failures meant that we were forced to close our doors on several occasions. The project collapsed and the government stopped all funding and ended the project. The combined effects of dealing with these problems led to a weakening of our financial position and so, in close cooperation with the Prudential Regulatory Authority (PRA), we decided that our members' interests were best served by merging with a suitable local credit union.
We chose London Community (LCCU) because it serves the same areas but has more branches over East London and could provide extra services to members. LCCU worked with the London Borough of Waltham Forest (LBWF) on a financial package which was agreed by the LBWF cabinet in December last year. A huge effort was made by our staff and LCCU's staff to ensure a smooth merger by the end of August. However, at the last moment, LBWF withdrew the planned financial support without warning. This meant that the long-planned merger became impossible, leaving us with no choice but to close down'.
This explanation sounds authoritative, yet on reflection provokes more questions than it answers.
First, as regards the DWP's £38m. Credit Union Expansion Project (CUEP), it is quite correct to state that this ended in disarray. The plan was to bring together a range of facilities, including a new core banking system with a mobile app, and encourage credit unions to move onto a specially created shared platform, but IT problems and delays intruded, and in the end only a derisive total of three credit unions migrated.
However, that accepted, whether or not the CUEP's flaws can be held directly responsible for ELCU's collapse is another matter entirely. What's undeniable is that the two other credit unions which migrated alongside ELCU are still going strong. So while it may be rhetorically useful for ELCU's directors to blame CUEP, and by implication the government, this is unlikely to be the whole story.
The statement that 'LBWF withdrew the planned financial support without warning' also raises eyebrows. Amongst other things, it is reasonable to wonder why the sudden volte face occurred. Was it something to do with the state of ELCU's books? Or was LBWF behaving unreasonably? And if in truth there was no warning, doesn't Cllr. Douglas have some explaining to do, as he was well-placed to be an informed and effective go between?
Some wider aspects of the affair, too, demand explanation. For reasons that remain unclear, in recent years ELCU apparently did not publish its annual accounts. Furthermore, an inquiry about this sent a couple of weeks ago to the relevant regulator, the Financial Conduct Authority (FCA), produced only this rather defensive response:
'There is no legislative requirement for credit unions in Great Britain to submit accounts to the FCA. The FCA did however, on 3 February 2016 make a new rule requiring credit unions to submit accounts to the FCA (CREDS 8.2.6R), which credit unions in Great Britain are obliged to follow. It is true that we were not able to provide you with copies of their accounts. The Credit Union has not submitted its accounts. The FCA regularly takes action where societies fail to submit their accounts, however, we do not comment publicly as to what if any action we are taking. This is because to do so may undermine any action. It does not follow that our decision to not comment on a matter means no action has been taken'.
How could it be that an organisation which prided itself on its community credentials was simultaneously seemingly shy about revealing its financial situation, indeed so shy that it ended up defying the regulator?
Equally surprising is a Daily Mirror story from September 2018 which alleges that an ELCU volunteer was suspended and reported to the police after £27,000 was moved in regular instalments out of a client's savings account without their knowledge, and via a method – telephone banking – that because of a disability, they could not have used. For what this seems to suggest is that ELCU's systems for safeguarding funds were not as robust as they should have been.
Finally, despite the fact that LBWF had a long-term and very close relationship with ELCU, trying to find out exactly how this worked, and on what terms, is difficult. Take the attempt by LBWF and LCCU to forge a rescue package in December 2018 which is referred to in the ELCU statement reproduced above. The relevant Cabinet discussion reads as follows: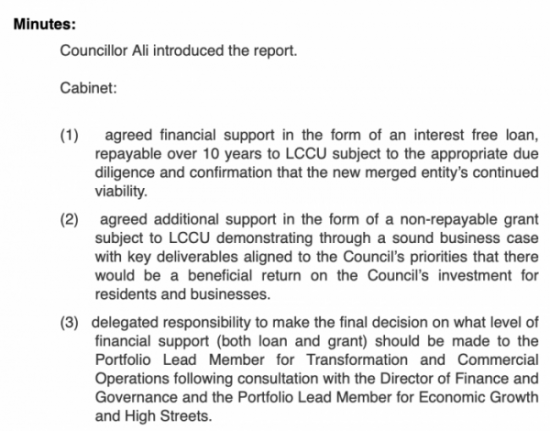 At first glance, this seems straightforward enough, but it is also recorded that the subject is a restricted item 'By virtue of paragraph(s) 3 of Part 1 of Schedule 12A of the Local Government Act 1972', which protects (with several caveats) 'Information relating to the financial or business affairs of any particular person (including the authority holding that information)'
There are doubts about whether the legislative paragraphs quoted were correctly applied. But leaving that point aside, what's particularly striking about the minute that was finally judged fit to publish is that though LBWF was willing to record that it wanted local residents to cough up money for an 'interest free loan' and 'a non-repayable grant', it bridled at revealing how much was actually involved. What explains this striking unwillingness to cite figures?
One final observation is important. With the Financial Services Compensation Scheme swinging into action, some will no doubt argue that ELCU's demise is now a dead issue. Indeed, the statements hurried out in the wake of the collapse seem designed to encourage just such a conclusion. Since clients are being fully compensated, the inference is, what's happened is akin to a 'victimless crime', and it is time to 'move on'.
However, such a stance is unmerited. To start with, though ELCU clients will not in the end lose out in financial terms, many will have been worried or inconvenienced, and some may not find it easy to open alternative accounts. It is also true that, henceforth, there may well be greater hesitancy about trusting alternative financial institutions – in a world of pay-day loans and short-term lenders, something that is much to be regretted.
Moreover, since ELCU was provided with a good deal of public money, and it is likely that much of this is now gone for ever, all Waltham Forest council tax payers have lost out, too, just as they did when another LBWF favourite, O-Regen, went under in 2011 (see link, below).
Against this background, it is surely in the public interest that the issues explored here are swiftly clarified.
ADDENDUM (1)
The FCA promises that 'Documents submitted by the [ELCU] administrators will appear on our Mutuals Public Register, and are free to download'.
It will be interesting to see whether this happens, and if it does, what is then revealed.
ADDENDUM (2)
It must be underlined that the ELCU ex-volunteer named in the Daily Mirror story cited above denies the allegations levelled against him.