The Mall tower blocks: Stella Creasy raises safety fears with Secretary of State Michael Gove, but there are other big concerns too UPDATED
In the last few weeks, Walthamstow residents have been amused – possibly bemused – by the sudden appearance of a new tower block's soaring central core right in the middle of the Mall redevelopment scheme (now officially called '17&Central').
As the Waltham Forest Echo reports, this startling vision has prompted numerous memes on social media, including 'King Kong atop the tower', and a 'mockup of the structure as the Leaning Tower of Pisa complete with tourists pretending to push it'.
All this is undoubtedly entertaining, but there is also a serious side to the story which is well worth telling, provoking as it does questions about finance, safety (most of all, fire safety) and whether LBWF is getting value for money.
The Mall redevelopment scheme is situated on LBWF owned land, and will comprise a new shopping centre to replace the old, public realm 'improvement', and the tower block currently under construction plus a near twin.
When finished, the two tower blocks will be 34 and 26 storeys high respectively, and will (in stages) eventually deliver 535 flats, most one or two bed, with the majority rented out on the private market.
Turning to the developers of the scheme, they initially were Capital & Regional (hereafter C&R), a specialist retail property investor, and Mount Anvil, 'central London's estate transformation specialists'.
However, after the two companies had gained planning permission from LBWF in 2018, Mount Anvil withdrew in rather mysterious circumstances.
Subsequently, much work went on behind the scenes, and in 2022, C&R emerged with a somewhat modified scheme which also gained planning permission, together with a new development partner for the tower blocks, a company called Long Harbour, the latter paying the former for involvement, reportedly £22m. upfront plus annual rent payments from a lease agreement.
Long Harbour has described itself as 'a specialist real estate investment, development and management firm', which 'generates attractive returns for investors whilst seeking to create buildings of lasting value through thoughtful design and exemplary stewardship', and intends to spend c. £260m. on the tower blocks, with some of that sum provided by PSP Investments (owned by Canada's Public Sector Investment Board) and Cadillac Fairview (owned by Ontario Teachers' Pension Plan).
Completing the picture, the company which Long Harbour has contracted to do the actual building work is Tide Construction (hereafter Tide), an interesting appointment, and one that merits some further comment.
Tide's founder and majority shareholder is John Fleming, who, by any standards, has had an extraordinary career. Starting off erecting farm sheds in West Cork nearly 50 years ago, Mr. Fleming subsequently became one of the Republic's biggest builders and property barons, as well as a prominent supporter of Fianna Fail, the dominant political party.
But in the 2009 crash, Mr. Fleming's companies collapsed, owing perhaps a billion euros, and a year later he declared himself bankrupt in England, a canny move given that he then was able to discharge his bankruptcy after just a year, rather than the 12 years usual in his home jurisdiction.
Free of past debts, in 2013 Mr. Fleming launched Tide, then guiding it to rapid expansion, with turnover and after tax profits rising from £2.3m. and £270,000 in 2013-14, to £178m. and £9.7m. in 2021-22.
Much of this success has occurred because Mr. Fleming champions a novel modular building system, called 'volumetric construction technology' (VCT).
So how is VCT being implemented in Walthamstow? Tide (as the memes illustrate) is presently concentrating on completing the first tower block's core. Meanwhile, its sister company, Vision Modular Systems UK Ltd., which owns factories in Bedford and South Wales, has begun precision engineering the '3D structural units' that will be used in combination to form the flats.
Put plainly, this means creating what are essentially steel reinforced boxes and then fitting them out internally, for instance with kitchens and bathrooms.
As the construction of the core goes further and further up, so the '3D structural units' are being transported to Walthamstow, craned on top of each other, securely fastened in place with a series of pins, kitted out with electrics and plumbing, and completed with a final coat of paint, a measured progression which will be repeated right up to the topmost floor.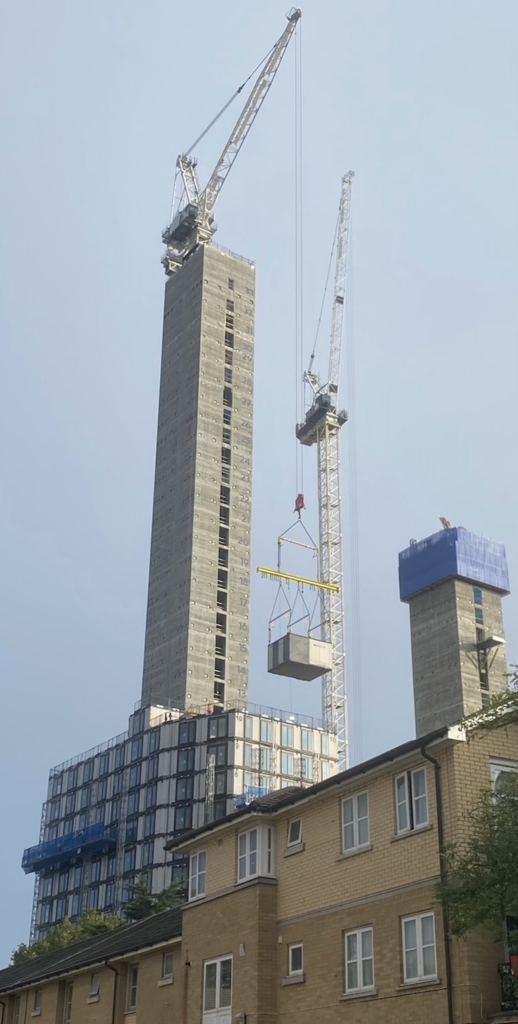 When the first tower block is finished, Tide will then move to complete the second in the same way.
The advantages that will accrue from this approach are said to be significant. Tide believes that, because 75 per cent of the building work is occurring in a controlled factory setting, it can guarantee consistent quality, and thus drastically cut snagging. It forecasts, too, that, compared to using traditional building methods, there will be fewer vehicle movements (no queues of trucks bringing in a wide array of different parts); little waste (factory production can be carefully planned and supervised); a smaller onsite workforce; lower embodied carbon emissions; and, in general terms, only minimal disruption to the locality.
Perhaps most important of all, Tide aims to complete the job in half the time historically considered the industry norm, thus allowing Long Harbour and partners to generate earlier returns on their investment.
All of this seems like good news, and much of the recent LBWF and press comment is indeed celebratory. Yet it is clear from talking to well placed sources that there are also some credible concerns.
The first, perhaps inevitably, revolves around finance, and its associated difficulties. As is obvious, all builders, of whatever kind, are facing escalating costs. In addition, and more specifically, factory production of modules has its own particular pressures. Set-up costs and overheads are substantial, meaning that achieving sufficiently profitable returns depends upon there being a constant and smooth flow of orders, a challenge given that construction is often beset by volatility, in other words 'lumpy' orders followed by dearth.
In these circumstances, a surprising number of builders specialising in modular lately have either exited the sector completely or gone bust, such that an article in Building during the summer of 2022 could suggest that 'The rate of failures is starting to look like the industry is witnessing the end of modular as a viable concept'.
Not all is doom and gloom, though, because a few companies have successfully adapted to the circumstances before them, either by transferring their factory operations to low-cost countries such as, in the case of Bouygues, Morocco, or by striking deals with foreign producers like the giant China International Marine Containers Co Ltd., which has its own modular building division.
Turning to Tide, it seems at first sight to be relatively untouched by the troubles around it, with a full order book, and a cleverly diversified portfolio, which includes build to rent, as at the Mall, but also large student housing developments.
Nevertheless, there are rumours in Walthamstow that Tide, too, is using Chinese suppliers to gain savings, and this has generated unease, because though trade with China is, needless to say, perfectly legal, some find it morally and politically reprehensible, given the country's poor human rights record, questionable safety standards, and reputation for corruption.
Of course, it may be that the China link is well wide of the mark. But it would do no harm if either Tide or LBWF could provide reassurance.
The second cause for concern is safety, particularly fire safety given what happened at Grenfell.
In an interview with the trade press, sector expert and government advisor Mark Farmer has underlined that '"Tide have spent a lot of money on large-scale fire testing to prove the robustness of their system"', and added that 'much of that had been done without official guidance, and has been agreed directly with the fire brigade'.
Giving some credence to this assessment, when Building recently toured a Tide built tower block in Croydon, it was impressed with the modules' fireworthiness:
'Internally there is a layer of fire-rated plasterboard over a sheet of Vision's own fibreboard, with rockwool between the framing sections and the outside clad in cement fibreboard sheets. This build-up has a two-hour fire rating. Externally the building features a 200mm-thick layer of rockwool finished with green glazed terracotta cladding, making the building compliant with the latest building regulations for fire performance'.
That said, on this issue, as with Chinese involvement, opinion in Walthamstow remains unconvinced, to the extent that local MP Dr. Stella Creasy recently felt it prudent to contact the Secretary of State for Levelling Up, Housing and Communities, Michael Gove MP, seeking clarification:
'I'm writing to you following concerns that have been raised with me by residents to seek clarity about the Government's building safety requirements following the enquiry into the Grenfell tragedy. They have asked me to expressly raise this matter with you rather than my local authority to seek guidance.
At present, construction is taking place in Walthamstow of new housing in our town centre to provide 500 flats – this was given planning permission over two years ago and is expected to be completed in the coming year. The plans for the redevelopment of the Mall site in Walthamstow represent a major investment in housing and retail in our local area and so have been overseen by both the local authority and the Mayor of London…
Following the outcome of the Grenfell inquiry, residents have raised with me ongoing concerns about both the stairwell layout for this development and the modular construction. They are concerned that at present it is their understanding that this development has a single staircase and a single lift.
Residents in Walthamstow have therefore contacted me to express their concern to understand what the evidence about the provision of staircases and the impact this had on the events in the Grenfell Tower. In particular they have cited evidence given by the Fire Brigade of the need for two staircases in such large towers and similar concerns from the Chartered Institute of Housing.
I would welcome any insight you can give about whether building guidance has been issued following this evidence, and whether therefore there are proposals to review any such major housing developments in the light of the Grenfell tragedy.
Should this be the case residents in Walthamstow would welcome guidance as to what the mechanism for this might be to determine whether there may be any such safety concerns for this development, or if there has been any review of these issues of which your department is aware and on which you are able to provide feedback for them'.

In passing, it is striking that Dr. Creasy, whatever her constituents' preferences, apparently has not contacted LBWF, because it was the latter that granted planning permission, and thus should know all about whether the tower blocks are safe or not.
As before, it certainly would be helpful if Tide and/or Long Harbour and/or LBWF now commented on the record.
The final concern is perhaps the most fundamental. The Mall redevelopment scheme, and of course the tower blocks, promise significant returns.
But are these returns being equally shared between all those involved? Most pertinently, has LBWF safeguarded the interests of residents as a whole, not just the better off?
In public pronouncements, LBWF is upbeat. The 500 plus new homes, it claims, will provide a major boost to its council tax revenues; while because it is the landowner of the site, it will reap rents from the developers long into the future.
Moreover, it adds, in the bargaining process, it has also won out, for example securing financial help with improving, first, the public realm surrounding the Mall, and, second, the entrance to Walthamstow Tube station.
However, on closer inspection, there are some important caveats.
One source of disquiet is the fact that the lease agreements between LBWF and C&R, and C&R and Long Harbour, are each to last for 250 years, the issue being that such a length of time at first sight seems to tie LBWF's hands should market circumstances change. Perhaps the agreements include provision for both review and break clauses, but so far nothing has been said about these matters in public.
In addition, some believe that LBWF should be more open about exactly how much rent it will be receiving each year, as this is a vital part of the overall equation, but up to now has only been gestured to in rather vague terms.
Then there is the issue of 'affordable housing'. Originally, it was envisaged that one third of flats in the tower blocks would be 'affordable', but over the years, this figure has been revised downwards to a fifth.
Furthermore, the 'affordable housing' to be provided is now revealed to be what's called 'intermediate rent', that is 80 per cent of the rent which would be charged by the market, a level that in a property hot spot like Walthamstow is, in reality, not 'affordable' at all.
It is true that, as a kind of compensation, the developers are paying LBWF several million pounds to help it build 'affordable' housing elsewhere in the borough, but in the grand scheme of things, where vast amounts of money are swilling about, few will see this as adequate, let alone generous.
Doubtless, some will argue that though these outcomes may not be optimal, the reality is that they represent the best possible in the circumstances.
Such an argument cannot be entirely dismissed.
The evidence suggests that LBWF negotiated seriously, for example using the prominent law firm Pinsent Masons as an adviser, not least about due diligence.
It is undeniable, too, that in general the developers have continued to hold an extremely powerful hand, simply because of their wealth. For example, Long Harbour currently controls a portfolio valued at £4bn., while also having access to a network of very wealthy investors, ranging from the pension funds already cited to – Private Eye reports – Hong Kong based magnate Li Ka-shing, once dubbed 'Asia's richest man', whose companies own various UK assets including Harwich and Felixstowe docks.
Yet there is a lingering feeling that LBWF could and should have fought its corner harder, but didn't, not because it was outgunned, but because during a long period under LBWF Labour Leader's Chris Robbins and Clare Coghill, not to say CEO Martin Esom, the overriding objective was to make Waltham Forest 'investor friendly', thus predisposing Town Hall staff and councillors to treat money making schemes more sympathetically, and less judiciously, than they should.
From this perspective, the tower blocks will always be a potent reminder of what might have been had LBWF not allowed a love affair with developers to lead it astray.
PS for further discussion of the Mall redevelopment scheme, see