Property giant Long Harbour buys up the c.500 'build to rent flats' in the redeveloped Walthamstow Mall, but will leaseholders be adequately protected? UPDATED
In late 2017, LBWF granted developers Capital & Regional (hereafter C&R) and Mount Anvil planning permission to redevelop the Mall site in Walthamstow, that is, extend the existing retail space, add two new tower blocks with c.500 'build to rent' flats, one third 'affordable', and re-model the surrounding public realm.
The objective was to transform and so revive what the senior officers and politicians in the Town Hall liked to claim constituted a longstanding 'focal point for the community'.
Subsequently, the Mall scheme (now badged as '17&Central') has steadily proceeded, though not without controversy.
In November 2018, Mount Anvil severed ties with C&R and withdrew, but declined publicly to explain why, prompting speculation as to whether, though familiar to then Leader Cllr. Clare Coghill, it had been fully committed in the first place.
Three years later, Local Democracy Reporter Josh Mellor revealed that C&R intended to reduce the 'affordable' proportion of flats in the mix, which apparently, and astonishingly, LBWF and London Mayor Khan seemed fairly relaxed about.
More recently still, a further issue has emerged, one which is little talked about, though certainly of some consequence.
In October 2020, the trade press reported that, as part of a £500m. investment programme in London, a company called Long Harbour had offered C&R £200m. to take over the 'build to rent' flats component of the Mall scheme in its entirety.
Subsequently, the deal went through, and in May 2022, C&R's Chief Executive provided this update:
'At Walthamstow, we have now secured vacant possession of all units required to unlock the development site and documentation with the Local Authority to facilitate the development is agreed and close to completion. We expect to clear the remaining pre-conditions to enable transaction completion and release of the land receipt of c. £20 million payable by our residential partner, Long Harbour, before 30 June 2022, at which time we will hand over the site to allow them to commence their development programme'.
So what's the problem? First, some background.
Long Harbour Ltd. (company number 6905581), which was incorporated in 2009, describes itself as 'a specialist real estate investment, development and management firm', which 'generates attractive returns for investors whilst seeking to create buildings of lasting value through thoughtful design and exemplary stewardship'.
Looking a little closer reveals that one important part of Long Harbour's business revolves around leaseholds.
In short, the company and its associates have amassed a large number of freehold properties, and lease them out; and because they are the outright owners, all their leaseholders have to pay over, as well as any sums for services, etc., a yearly ground rent.
Obviously, the latter provides a welcome income stream. But like other similar operators, Long Harbour also markets leases and their associated ground rents as commercial investment products, selling stakes in dedicated funds to a variety of financial players, corporate and individual, seeking safe and predictable revenues.
And the key point here is that this is a highly lucrative business to be in, because lately developers have begun to increase ground rents from their traditional 'peppercorn' levels, to the extent that some are doubling every ten years, while at the same time imposing other fees, and considerably shortening the length of leases, to make them more easily tradeable.
To give some idea of Long Harbour's financial achievements, its website summarises the progress of its three core funds thus: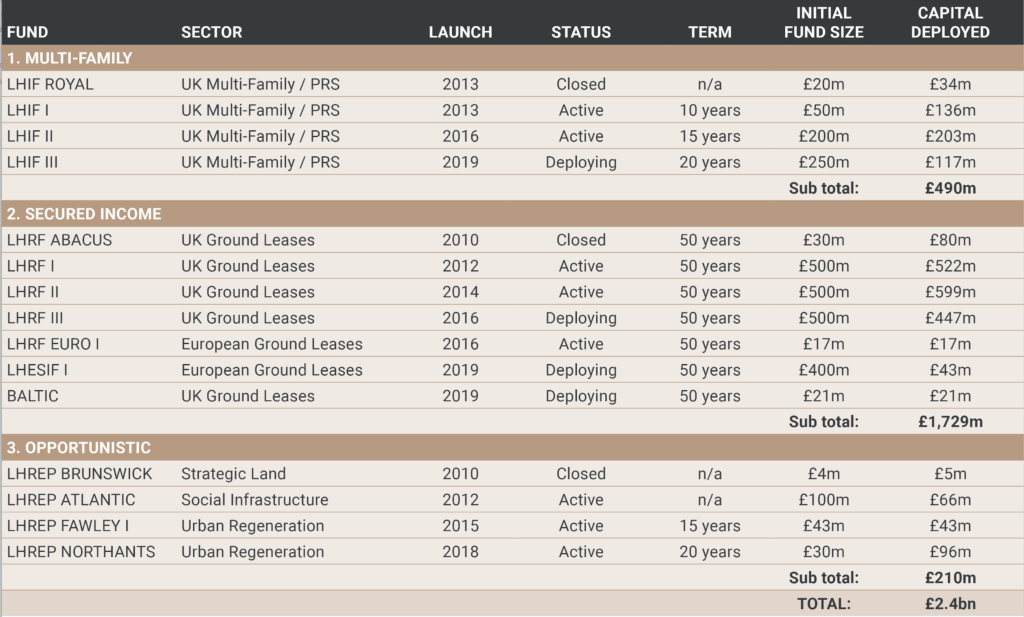 Left there, some will argue that, because it is an experienced and profitable company, with an expertise which complements that of C&R, Long Harbour's involvement in the Mall is an undoubted plus.
However, there are a couple of important caveats.
First, to a wide range of commentators, including several MPs, Long Harbour seems unnecessarily secretive about both those who are investing in its funds, and the web of allied companies that it is involved with, often through interlinked directorships.
The advocacy charity Leasehold Knowledge Partnership (LKP), which provides the secretariat for the All-Party Parliamentary Group on Leasehold and Commonhold Reform, describes the situation as follows:
'Long Harbour itself is a small company turning over £4 million a year from leasehold administration fees and making a profit of £340,000. But it manages assets worth £1.7 billion, which are owned by different entities, many being variations of Adriatic Land and Abacus Land.
In the past, [Long Harbour's PR adviser] Crosby Textor has assured LKP that ownership of the residential freeholds belongs to UK institutional pension funds. But it is unexplained why they do so secretly behind nominee directors and in many cases offshore'.
LKP comments: 'Freeholders have considerable power over leasehold home owners…It is surely right and proper that they are known and publicly accountable'.
Second, more general unease has been expressed about the leasehold sector as a whole, prompting the UK government's Competition and Markets Authority (CMA) to launch an ongoing investigation, focused on four 'areas of concern': 'escalating ground rents', 'potentially unfair sales practices', 'service/permissions charges', and 'lack of checks and balances – allowing problems to develop'.
So far, the CMA's enforcement action has involved such household names as Barratt Developments, Countryside Properties, Persimmon Homes, and Taylor Wimpey.
However, in March 2022, the LKP claimed that the next in line for investigation would include the 'Abacus Land and Adriatic Land freehold-owning companies that are part of the Long Harbour fund', and the same month, the CMA announced that Adriatic Land 3 Ltd. had indeed agreed to remove doubling clauses from its leases, a positive development, no doubt, though it is fair to add that ten other very similarly named active companies in the same group remain unaffected.
At this point, it is important to stress that (a) there is no suggestion that Long Harbour has ever behaved unlawfully, and (b) its business practices are far from unusual across the sector.
Nevertheless, since LBWF is so focused on the Mall scheme, it has a duty to ensure that those leasing flats there – now and long into the future – will be treated fairly, and this means obtaining relevant guarantees.
At the very least, LBWF must clearly and publicly establish that the sale of the new flats in perpetuity will conform to the CMA's prescriptions about best practice.
UPDATE
A reader points out that the Leasehold Reform (Ground Rent) Act 2022, which comes into force on 30 June 2022, 'puts an end to ground rents for new, qualifying long residential leasehold properties in England and Wales'.
So those buying leases in the Mall scheme have one worry less.
However, as the preceding paragraphs indicate, the CMA's concerns about the leaseholder sector go beyond the ground rent issue, and accordingly the call for LBWF to give appropriate guarantees still stands.