Town Hall asbestos: now LBWF can't produce the mandatory health and safety permits issued to the contractors doing vital remedial and removal work
In the period 2015-20, LBWF ostensibly managed Town Hall asbestos on the basis of a 101-page manual, 'Asbestos Management Procedure For Main Building Walthamstow Town Hall Complex', jointly produced with the NPS Group.
Amongst other things, this contained a chapter headed 'Audit Records – Permit to Work', which explained that 'The Permit To Work…procedure provides a formal control system aimed at the prevention of accidents and damage to property where foreseeable hazardous work is carried out'.
The key to the 'procedure' was a 'Permit To Work' form, reproduced here: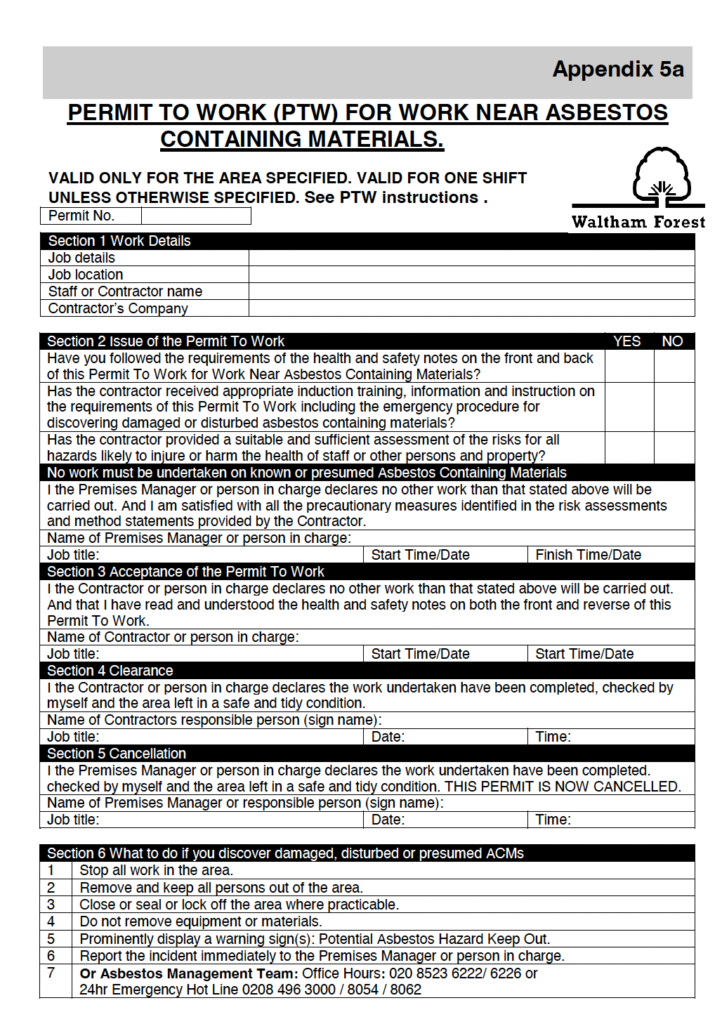 Construction work where asbestos was likely to be present, it was underlined, could only proceed if 'an authorized and signed' copy of this form had been completed and circulated.
This directive is unambiguous. Nevertheless, as newly unearthed evidence suggests, whether LBWF took much notice of it is debateable. The facts are as follows.
By the end of 2022, it was established that in the period 2015-2020 remediation and/or removal of asbestos from the Town Hall basement had occurred on at least three separate occasions, and so as a test case, and using the Freedom of Information Act, I asked for the relevant Permit to Work forms to be produced.
LBWF initially told me:
'The Council does not directly hold the information requested but is currently working with its service providers during the period of 2015 – 2020 for the documentation requested. We intend to respond to you directly via email on the receipt of the information you have requested'.
But as the weeks passed, nothing further followed, so I submitted a reminder, and on the very same day LBWF's Director of Governance and Law, and dedicated Data Protection Officer, Mr. Mark Hynes, responded 'I will chase this up'.
Yet more weeks passed, and in the end, I decided to complain to the Information Commissioners Office, and very quickly it determined that, yes, LBWF had not provided me with 'a valid and substantive response', and straightway must do so.
Finally, last Friday, alongside an apology, but without any explanation, LBWF forwarded the following:
'The Council's Facilities Management function was outsourced to AMEY for the period 2015-2020. As the competent party, AMEY were required to assess, and issue permits to work. I can confirm that the Council does not hold the information that you requested, and therefore, we are unable to comply with your request'.
This is a fairly astonishing denouement. If LBWF is to believed, it apparently asked 'AMEY' (in reality Amey plc) for the Permits To Work, but without success. Even Mr. Hynes drew a blank. The company's obduracy is difficult to fathom. If the paperwork had been completed as required, why withhold it? Something doesn't add up.
LBWF also has some explaining to do. Under the Control of Asbestos Regulations 2012 section 4, it is the statutory duty holder for the Town Hall, with various responsibilities in terms of handling and storing information.
And as such, the fact that the Permits To Work have not been archived is very surprising, particularly given that, in the recent past, asbestos-related misdemeanours have led to LBWF being successfully litigated against by both the Health and Safety Executive, and its own ex-employees.
Once again, it will be interesting to see what Mr. Hynes makes of all this when he presents the fruits of his long-running and very expensive investigation.
PS the length of time it took LBWF to respond to my original Freedom of Information request about Permits To Work – 112 days – is another scandal, and shows how determined it can be to thwart lawful inquiry about sensitive subjects like asbestos.