NPS London Ltd. (now re-named Evolve Norse Ltd.) has advised LBWF on managing asbestos since 2007, but does that inspire much confidence?
One organisation that sometimes pops up on the margins of public discussion about how LBWF has managed asbestos in the past few years is NPS London Ltd., recently renamed Evolve Norse Ltd. (so hereafter NPSL/EN) which is a joint venture between – and this gets complicated – LBWF and (via a subsidiary, NPS Property Consultants Ltd.) the national holding company Norse Group Ltd., itself, rather surprisingly, the child of Norfolk County Council.
NPSL/EN was formed in 2007, taking over what was previously LBWF's in-house architecture and building consultancy service, with the staff transferred over. Subsequently, it is said to have been involved in some 650 LBWF projects, including big tickets items like the school building programme, together valued at £450m..
Those on the inside claim that this is a win-win situation. NPSL/EN gains because it enjoys exclusive supplier status, while for its part, LBWF is unburdened of, amongst other things, pension liabilities; has some influence over service charges (which are supposed to be regularly benchmarked to ensure value for money); and receives a half share each time the company delivers annual profits (an arrangement which has generated a not insignificant £600,000 to the end of FY 2020-21).
Against this background, the Cabinet has twice extended LBWF's contract with NPLS/EN, such that it currently runs to 2029, with an option for a further five years.
Turning to the issue of asbestos, it's immediately apparent that since its inception NPLS/EN has played a major role in advising LBWF about all aspects of the material's management, including its removal, this being particularly so as regards the Town Hall.
To illustrate how closely LBWF and NPSL/EN have co-operated over asbestos, in 2013 they agreed on the following division of 'roles and responsibilities', which then remained in place for much of the next decade: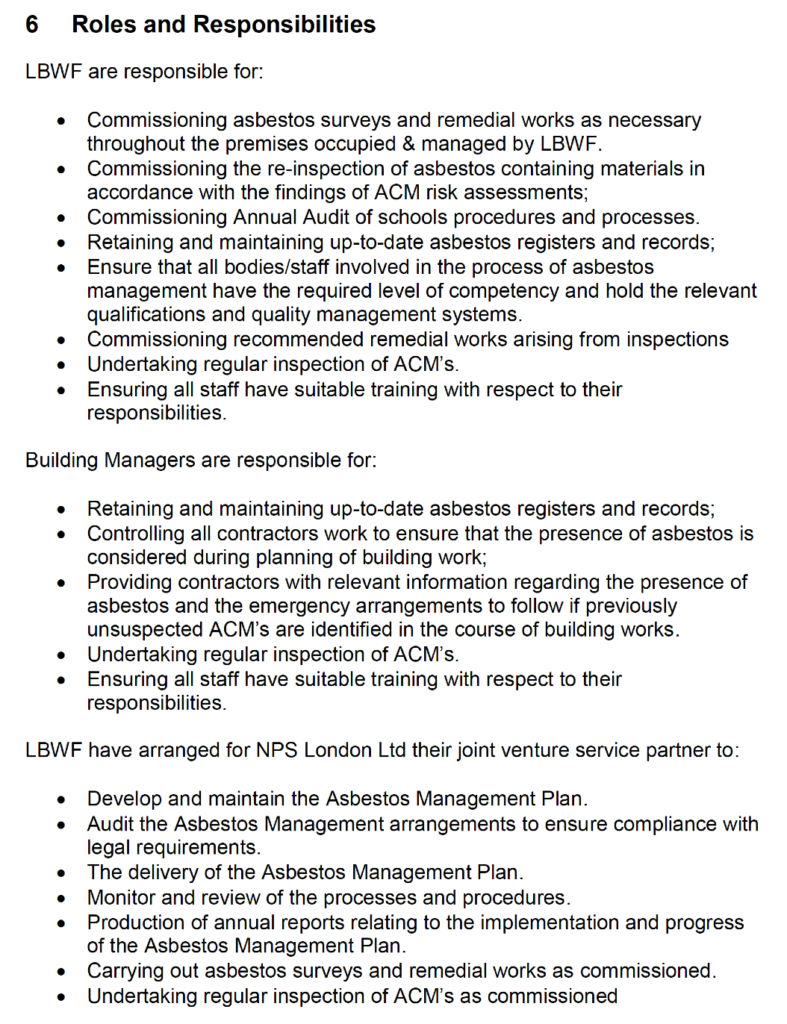 Reinforcing the same point, LBWF has recently claimed in answer to a Freedom of Information request, that in 2022, it corresponded with NPSL/EN over Town Hall asbestos no less than 36,861 times – that is, 101 times each and every single day of the year.
At first sight, LBWF's reliance on NPSL/EN seems to be sensible: in short, it has needed the extra expertise.
But looked at more closely, there are three grounds for concern.
First, NPSL/EN's own record regarding asbestos is unimpressive.
For, after contracting to carry out remedial work in partnership with two construction companies at St Mary's Church of England Primary School in Walthamstow during 2012, it was successfully prosecuted by the Health and Safety Executive for breaching s.3(1) of the Health and Safety at Work Act 1974, specifically 'failing to recognise deficiencies in an asbestos survey it had commissioned, which exposed workers to long-term risk to health from dust containing asbestos', the result being a fine and the payment of costs.
Those are the bare bones of the case, but the human side of what transpired was especially tragic, as an official report revealed that 'the majority of workers on the site were Romanian', and whether they received asbestos awareness training was 'unknown'.
Second, though, as already noted, NPSL/EN has had responsibility for some significant aspects of LBWF's asbestos policy and management procedures, whether it has carried these out with sufficient rigour remains questionable.
One detailed example is both representative and telling. In 2013, LBWF commissioned NPSL/EN to produce an asbestos management plan for the Town Hall, and though this key document remained in place until 2021, it was not updated as it should have been.
Thus, someone consulting the document in 2017, for instance, would have come away with the impression that Mr. Andrew Carr was one of the statutory duty holders for asbestos, as well as 'contracts and compliance manager', though if his own LinkedIn page is to be believed, he had in fact left LBWF's employment two years earlier.
Third, beyond the paperwork issue, much about how the NPSL/EN board has taken decisions, and who exactly has been calling the shots, remains shrouded in mystery, hardly a good sign given that (as is universally recognised) transparency and accountability are a crucial part of any safety culture worth its name.
From its creation, the NPSL/EN board has guaranteed LBWF minority representation, with two places reserved exclusively for its nominees.
Over the years, those that have represented LBWF include Chief Executive Martin Esom (2007-08, and 2010-14), past Leaders Chris Robbins (2007-09) and Clare Coghill (2014-17), and several senior Labour councillors, including Simon Miller (2017-22), with LBWF Strategic Director Economic Growth and Housing Delivery Stewart Murray and Cllr.Ahsan Khan being the current incumbents.
In theory, such an arrangement should have facilitated openness, and allowed councillors and residents the opportunity to assess NPSL/EN performance, but in practice it hasn't worked out like that.
In 2012, Mr. Esom told this blog:
'I fully recognise my role as board director, and also Chief Executive of the authority and ensure that the two roles are not blurred. My deputy, Shifa Mustafa, acts as the lead client and she has a free reign to fulfil that task in the best interests of the local authority. She reports to a variety of Cabinet Members directly on the performance of NPS' [sic].
But in response to later questioning, LBWF admitted that Ms. Mustafa's 'reporting' was only ever verbal, and 'therefore no formal paper reports exist'.
At around the same time, Mr. Esom also told this blog that NPSL/EN was 'our advisers on asbestos matters' [sic]. But, as the Waltham Forest Guardian reported, when the Health and Safety Executive successfully prosecuted LBWF in 2015, NPSL/EN swiftly moved to distance itself from any liability, prompting the headline 'Confusion over town hall asbestos scandal as contractor denies involvement'.
In the past few years, this opacity has continued. In answer to a Freedom of Information request, LBWF provided a table itemising Mr. Murray and Cllr. Miller's attendance at NPSL/EN board meetings between 2018 and 2020, which showed that the latter had sent his apologies on all but one occasion: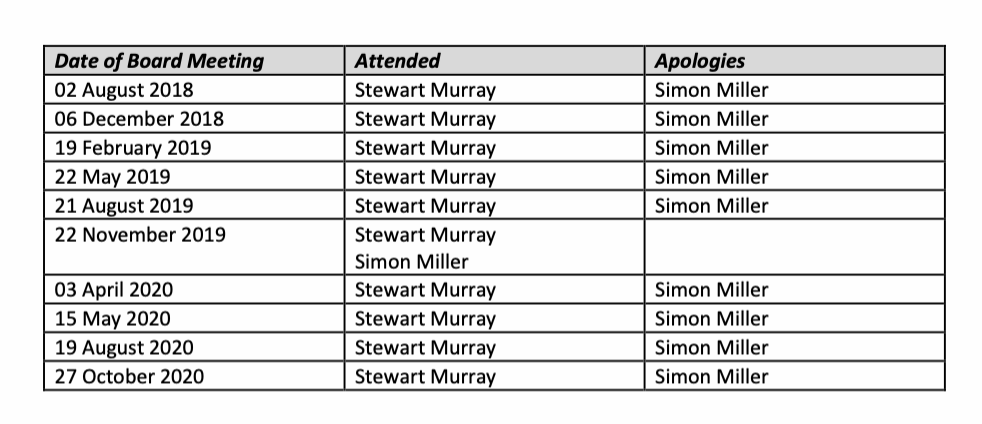 And when asked for copies of 'written reports and presentations by both Stewart Murray and Cllr. Miller regarding NPS London to senior council officers and members' for the same time period, LBWF responded that a search had produced 'zero results', and commented: 'Company Directors have responsibility for the supervision and management of NPS London and its business matters. Where the Council has appointments to boards of this nature…there is no expectation that they would follow process for documented reporting back'.
Taken together, these last disclosures are, to say the least, very surprising, not only because of the risks associated with asbestos, but also, more prosaically, because of the amount of business that LBWF has put NPSL/EN's way.
Anyhow, it will be interesting to find out what Mr. Mark Hynes' long-running investigation into asbestos management at LBWF makes of these matters – if anything.