LBWF's in-house 'Eastern Legal Partnership' initiative: another Waltham Forest mystery
Back in 2018, LBWF launched Eastern Legal Partnership (ELP), which its supremo, Director of Governance and Law Mark Hynes, introduced thus:
'Eastern Legal Partnership (ELP) is a team of lawyers that primarily provide legal services to the London Borough of Waltham Forest.
Our successes and expertise in the council's legal matters means that we are ideally placed to help other public sector organisations such as other borough councils, housing associations, NHS, schools and academies and others. We can also provide legal services to third sector organisations.
ELP is the enterprise we have set up to do this'.
The accompanying prospectus was bullish, emphasising that, unlike private sector law firms, ELP was a 'not-for-profit venture', and so could offer a broad range of expertise at prices which were 'very competitive indeed'.
Scroll forward to today, and ELP has an extended Google listing…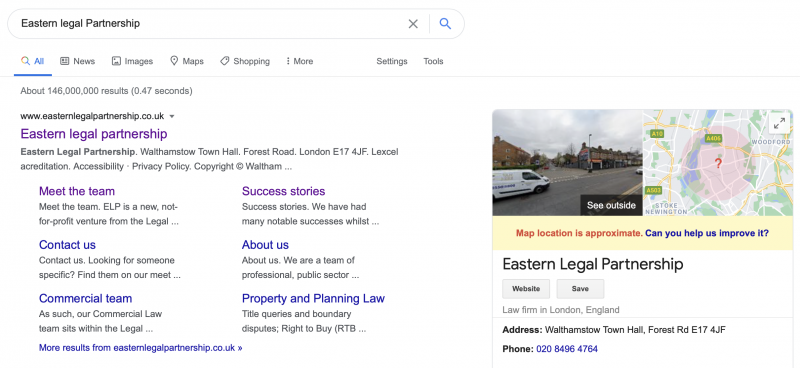 …an elegantly (and expensively) produced suite of dedicated web pages, 'Copyright Waltham Forest Council. All Rights Reserved', see here
https://www.easternlegalpartnership.co.uk
…and its own LinkedIn page.
However, when LBWF was asked a few weeks ago under the Freedom of Information Act to list, since inception, ELP's clients and net earnings per annum, it answered 'None' and 'None', with a further question, 'Please will you confirm that ELP's net earnings are passed without deduction to the council?', inexorably dismissed as 'Not Applicable'.
What's gone wrong?
As far as can be ascertained, nothing has been said publicly, but there are several possible explanations.
Maybe ELP has been stymied by circumstances beyond anyone's control, for example the regrettable incapacity of one or more of its leading lights. Maybe, contrary to initial hopes, demand for the proffered services just hasn't materialised. Or maybe someone senior has pulled the plug, realising that Mr. Hynes – who alongside his main job, is Monitoring Officer, Returning Officer, and Data Protection Officer – has reason to feel stretched, and as the Information Commissioner's recent castigation of LBWF demonstrates, anyway probably needs to concentrate on more pressing matters.
However, whatever the truth, the priority now is for some transparency.
Because if LBWF is to venture beyond the provision of services into commercial activities, and use public money as seed corn, then it also must be open about, not only its successes, but also its difficulties and mistakes, so that residents can satisfy themselves they are not being taken for a ride.