The forthcoming William Morris by-election: ex-Labour Titan Afzal Akram bounces back as a Tory (and with a bang) UPDATED
Politicians in Waltham Forest are often good for a laugh, and the forthcoming William Morris ward by-election is not short of crackers.
Labour is standing Umar Ali, brother of the recently deceased Nadeem (a thoroughly decent man, by all accounts), and son of Liaquat, the third in command of the party's Town Hall contingent of councillors.
Umar seems to have kept a low profile in the past, and so many are wondering what he has to offer. Questions are also being asked about how he arrived at the candidature, since no one seems to be sure when the selection process occurred, and who was involved – though it is fair to add that the Labour Party nowadays often does things in rather ad hoc ways.
But the real star of the show is Afzal Akram, who is standing for the Conservatives. For Mr. Akram is a well-know local personality, who has caught this blog's eye before, and as will become clear, has an interesting past and indeed present.
Mr. Akram first came to notice when he rose rapidly through Waltham Forest Labour's ranks in the first decade or so of this century, ending up not only in the Cabinet, with important portfolios, but also in many other prestigious positions.
A CV that he posted online a few years ago summarised his many achievements, such as these:
'Elected as a Councillor & Cabinet Member in the London Borough of Waltham Forest (2006 – 2014) – Annual Budget circa £1 billion
Chairman of the North East London & City Cluster of 8 NHS Primary Care Trusts (PCTs)(2012 – 2013) – Annual Budget circa £3.5 billion
Chairman of the Outer North East London Sector of 4 NHS Primary Care Trusts (PCTs)(2010 – 2012) – Annual Budget circa £1.6 billion
Chairman of the NHS Waltham Forest Primary Care Trust (PCT)(2008 – 2010) – Annual Budget circa £425 million
Chairman of the Business Link for London (2000 -2008) – Annual Budget £40 million
Chairman of the London East Connexions Partnership (2002 – 2008) – Annual Budget circa £30 million
Deputy Chairman of the Learning & Skills Council London North (2000 – 2008) – Annual Budget circa £200 million
Governor of Waltham Forest College (1997 – 2008) – Annual Turnover circa £20 million'.
However, in 2013 came a significant knock back, with a Town Hall disciplinary committee finding Mr. Akram 'guilty of trying to fix a controversial planning application vote' (as the Waltham Forest Guardian story put it), leading the Labour Party to fire him as chief whip, bar him from standing for committees for six months, and order him to relinquish his posts on other public bodies.
As an official party spokesperson commented, apparently without tongue in cheek: '"Labour Party rules exist to ensure the highest levels of probity, integrity and honesty amongst its members and the group's decision illustrates that failure to meet these standards will not be tolerated."'
But you can't keep a good man down, of course, and in 2015 Mr. Akram suddenly re-emerged in West London, running what appeared to be a high-end minicab firm, and standing for office as a representative of…UKIP (see the links below).
Anyway, now Mr. Akram is a Tory, and will no doubt burnish that party's reputation.
But it is also worth noting that the sky is not completely without its clouds.
As is obvious from the previous paragraphs, Mr. Akram trades on the idea that he is someone who understands money, and it is therefore reasonable to look at what he has achieved in terms of his own business activities.
On his LinkedIn pages as of today, Mr. Akram states that he is 'Chairman and CEO at Smile Group of Businesses'.
This sounds impressive.
But the truth is rather less rosy.
Consulting Companies House, Mr. Akram's only recent directorships are with Apex Global Link Limited (company 07855672), Smile Businesses Limited (company 09073880), and Smile Productions Limited (company number 09245132). So what have these companies achieved?
Apex Global Link Limited, where Mr. Akram held the sole directorship, was incorporated in 2011; submitted one set of annual accounts, this for 2012-13, which showed that it had recurring negative net assets; and then was dissolved via compulsory strike off in 2016.
Smile Productions Limited was incorporated in 2014; never submitted annual accounts; and again was dissolved via compulsory strike off in 2016.
That leaves Smile Businesses Limited, which is still active. But here, too, progress has been far from smooth.
The company was incorporated in 2014, and has submitted one set of annual accounts which shows the following: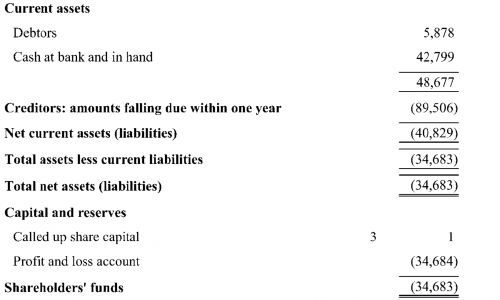 Moreover, compulsory strike off proceedings were threatened, first, in May 2016, then in November 2016, and finally in June of this year.
Taken as a whole, this is a mediocre record, at very best.
Still, there are clues that Mr. Akram has other enviable attributes.
A perusal of his Facebook page reveals that he is currently promoting a brand of coffee that allegedly facilitates weight loss and various other benefits.
Regarding the latter, Mr. Akram has posted the following: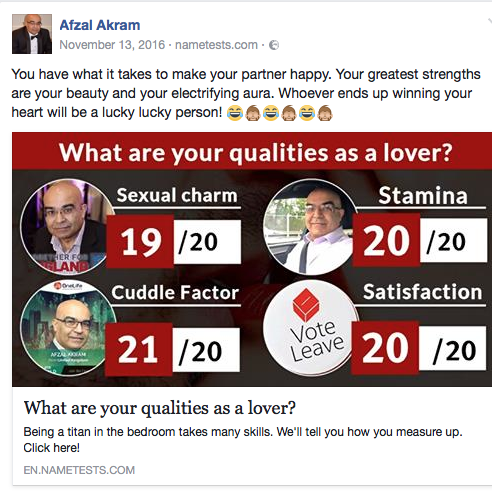 It is always good to come across a politician who retains his sense of humour.
Update
Re Smile Businesses Limited, it is worth adding that Companies House today shows the following: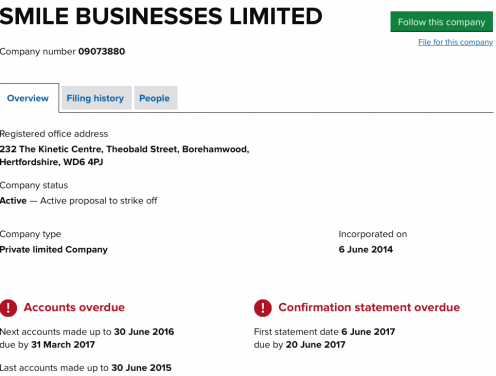 Sources:
http://www.guardian-series.co.uk/news/10254657.Former_Labour_whip_given_six_month_committee_ban_for_trying_to_fix_planning_vote/
http://www.guardian-series.co.uk/news/11522454.Former_Labour_chief_whip_takes_Ukip_chair/