Cllr. Clare Coghill confirmed to have broken LBWF's Code of Conduct by not declaring her work for Barry Sheerman MP, but Director of Governance and Law Mark Hynes declines disciplinary action
A recent post (see first link below) looked at ex-Leader Cllr. Clare Coghill's LBWF register of interests in the period 2014 to 2018, and noted some discrepancies.
In 2014, Cllr. Coghill declared that she was office manager for the Labour MP Barry Sheerman, but in her next register three years later, she included no such entry: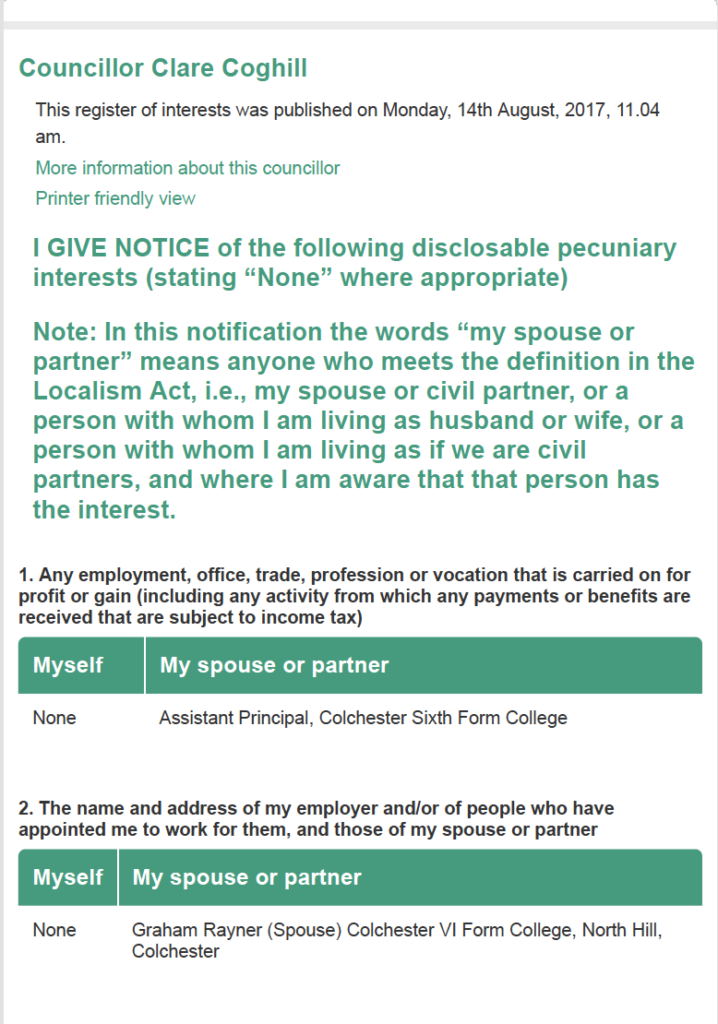 The clear implication was that her job with Mr. Sheerman had ended, and, as councillors were required to record any changes to their gainful outside employment within 28 days, her update was precisely designed to record that fact.
However, there was a fly in the ointment, because successive editions of the House of Commons Register of Interests of Members' Secretaries and Research Assistants listed Cllr. Coghill as part of Mr. Sheerman's 'staff' all the way through from 2014 until the summer of 2018.
Something clearly didn't add up.
Well, the facts were reported to LBWF's Director of Governance and Law, Mark Hynes, he agreed they were serious enough to require an investigation, and now he has forwarded his conclusions.
In short, he finds against Cllr. Coghill, explaining as follows:
'I have noted…the House of Commons Register of Interests of Members' Secretaries and Research Assistants…for May/June 2016, 2017 and 2018 and the fact that Cllr. Coghill was on the staff of Barry Sheerman MP. It is also not disputed that Cllr. Coghill had not made a similar declaration in the Council's register of interests in relation to the same period…
The Code of conduct [sic] states every Member has a duty to "register their pecuniary and non-pecuniary interests". A pecuniary interest is defined by Regulation under the Localism Act 2011 and includes the following:
Any employment, office, trade, profession or vocation carried on for profit or gain
Clearly being a member of Barry Sheerman's staff falls within the definition of a pecuniary interest and therefore should have been included on her Register of Interest [sic]'.
Nevertheless, despite what he calls Cllr. Coghill's 'failure', Mr. Hynes has decided that no disciplinary measures will follow.
Dealing with the law, first, he notes that under the Localism Act 2011, 'a member is guilty of a criminal offence' if 'without reasonable excuse' he or she 'fails to register disclosable pecuniary interests in accordance with the Code'.
But, he continues, since Cllr. Coghill's omission was in his view 'not…in any way…deliberate or wilful but rather was a genuine oversight on her part', in terms of the Localism Act that might well amount to 'a reasonable excuse', and get her off the hook.
So, he concludes, if legal action is to happen, it will not be because LBWF has initiated it:
'I certainly do not think that the facts would warrant a referral to the police on the basis that it is not in the public interest. In any event a potential prosecution would need to be investigated by the Police and brought by the Director of Public Prosecutions, not the Council. If you wish to refer the matter to the police that is a matter for you'.
As to the lesser option of reporting Cllr. Coghill to the LBWF Standards Committee, Mr. Hynes judges, after consultation with the Independent Person, Mr. Daniel Fluskey, that this, too, would be unreasonable, citing a host of supposed justifications:
'We see no public interest in taking matters any further given the historical nature of this breach which dates back to 2016.
Cllr Coghill's current register is up to date and accurate
Cllr Coghill is standing down as a councillor in May
We cannot correct an historical inaccuracy on her register from 2016
There has been no conflict of interest in relation the role [sic] Cllr Coghill provided to Barry Sheerman and her role on the council
There was no wilful failure or refusal to declare the interest and Cllr Coghill has apologised for the oversight on her part'.
For the most part that provides an adequate summary of Mr. Hynes' judgement.
However, in subsequent correspondence Mr. Hynes has made some further observations, and these are worth briefly looking at because of what they reveal about how he handled his investigation.
Mention has been made of Mr. Sheerman, and it might be assumed that he is just a bit player in the main story, but far from it.
For, as well as being an MP, Mr. Sheerman is a longstanding professional lobbyist, the founder and head of Policy Connect Ltd., a company which 'helps clients to get close to decision makers' via forums, roundtables, workshops, and the like.
And given that Cllr. Coghill, to repeat, was part of Mr. Sheerman's staff for the best part of five years, first as office manager, and then (in Mr. Hynes' telling) as a political adviser, the question that obviously arises is how Mr. Hynes can be so certain that none of this generated any conflict of interest.
Asked to comment, Mr. Hynes replies 'should Clare have been involved in any decision of the Council which resulted in a conflict of interest between her role as a councillor with that of policy advisor to Barry Sheerman MP then she would have considered how to best deal with that conflict at the time and would in all likelihood have sought my advice', and when probed further about whether he has any supporting evidence simply states: 'Cllr Coghill confirmed to me that no conflicts ever arose'.
Reflecting on Mr. Hynes' various pronouncements in their entirety, it becomes clear that, while they are firmly, even stridently, expressed, there are at least four reasons why they do not inspire confidence.
First, it is disappointing to find Mr. Hynes repeatedly stating that Cllr. Coghill's 'failure' dates to 2016, because as indicated earlier, she only submitted LBWF register of interests forms in 2014 and 2017, meaning the year 2016 is of no significance at all, and any suggestion to the contrary is to say the least puzzling.
Second, it is also disappointing that, in discussing disciplinary action, while Mr. Hynes mentions 'the public interest', he seems to have overlooked one of its most salient components, the electorate.
The key point here is that the LBWF register of interests is not just any old listing, but the only easily accessible resource that specifies what councillors get up to beyond the Town Hall, and, crucially, who they may be beholden to.
Thus, when Cllr. Coghill submitted an inaccurate return, voters were effectively short-changed, and local democracy in a small but tangible way diminished. Moreover, the damage has echoed down the years, because if councillors – especially Cabinet members – are found to have broken the rules, it breeds popular cynicism, a feeling that 'there is one law for us, and another for them'.
That Mr. Hynes neglects these considerations reinforces the view, previously expressed on this blog, that while he is touchingly solicitous of councillors, he continues to undervalue the legitimate expectations of local residents.
Third, Mr. Hynes takes little notice of context.
Cllr. Coghill, throughout these years, was one of Labour and the council's leading figures, and should have known the ropes.
Moreover, by 2018, she had close experience of two separate and well publicised controversies about LBWF councillors and their registers, the first of which, in 2012, had involved no less than her mentor, the then Leader, Cllr. Robbins, who – memorably – had neglected to declare (as he should have done) ownership of his family home and membership of the Labour Party.
Yet, once again, none of this appears to have struck Mr. Hynes as relevant.
Fourth, leaving all the points previously mentioned on one side, the methodology that Mr. Hynes has employed to conduct his investigation anyway seems questionable.
Like everyone else, councillors are entitled to the presumption of innocence, and should be taken seriously when quizzed about allegations made against them.
But for Mr. Hynes automatically to accept at face value what they tell him by way of explanation or mitigation, without seeking any further information, let alone corroboration, is unwise, not least because memory can, without any ill intent, play strange tricks.
Needless to say, Mr. Hynes does not have vast resources at his elbow, but on the other hand, there are some basic checks that can be made cheaply and quickly.
Indeed, in this connection, it is surely significant that, over the past decade, whenever problems over the register of interests have surfaced, the impetus has come from mere amateurs, members of the public, rather than the paid directorate which Mr. Hynes leads.
So, in conclusion, what this story boils down to is a Cabinet portfolio holder who forgets to declare an important interest, thereby in effect masking the continuation of her second career; and a Director of Governance and Law who then declines to take disciplinary action, at bottom, it seems, because the aforementioned has assured him there wasn't and isn't a problem.
Welcome to Waltham Forest.