Asbestos in Waltham Forest Town Hall: a new LBWF disgrace? Part One
I have sent the letter pasted below to LBWF Chief Executive, Martin Esom, and will post his response when received.
10 June 2022
Dear Mr. Esom,
Asbestos in the Town Hall
Prompted by recent media coverage, I have been looking again at how asbestos was managed in the Town Hall from around 2013 to June 2020, when of course the whole building was closed.
I note the following:
1. At various times during the period referred to, you made statements reassuring council staff and the public at large that the asbestos problem in the Town Hall was under control, with the material either being carefully enclosed or removed.
2. For example, in you court statement prior to the HSE's successful prosecution of LBWF in 2015 for failing to protect staff, contractors, and visitors from asbestos at the Town Hall, you claimed in mitigation that LBWF had 'deployed significant amount of time and indeed financial resource in improving asbestos management', and possessed a detailed plan outlining how 'ACMs [asbestos containing materials] or ACMs in poor condition will be monitored, which will identify any deterioration and trigger encapsulation or removal', with NPS London Ltd. commissioned to oversee remedial work.
3. Given such statements, it is therefore surprising to find that when Environtec Ltd. carried out a detailed investigation of the Town Hall in September 2020, it found that dangerous asbestos was present in numerous places throughout.
4. Environtec described its work as a 'refurbishment survey' which it explained in the following terms:
'This type of survey is used to locate and describe, as far as reasonably practicable, all ACMs in the area where the refurbishment work will take place. The survey will be fully intrusive and involve some destructive inspection, as necessary, to gain access to all areas, including those that may be difficult to reach'.
5. In operational matters, Environtec based itself on the HSE's Comprehensive Guide to Managing Asbestos in Premises (HSG227), and for each case where asbestos was identified, rated it in terms of (a) extent and condition (for example, whether it was damaged or masked) and (b) likelihood and impact of it being disturbed (for example, by human intervention), then assigning it to one of four categories of 'priority/risk' – high, medium, low, or very low.
6. Environtec defines the first two categories as follows:
'MEDIUM…indicates the material contains asbestos and is in a location and/or condition which requires some remedial action'.
'HIGH…indicates materials which contain asbestos and which are in a condition and/or location which requires urgent attention'.
7. In the Town Hall as a whole, Environtec found that asbestos was present in 160 different locations, and, more significantly, that 'high priority/risk' and 'medium priority/risk' cases numbered 20 and 80, respectively, with the recommendation for the former being 'Remove under fully controlled conditions', and for the latter either 'Remove under fully controlled conditions' or 'Restrict access, remove and/or decontaminate area' or (in a few instances) 'Conduct further investigation prior to relevant maintenance/refurbishment works'.
8. On the ground and first floors, the finding that stands out is the fact that 'high priority/risk' asbestos was identified in proximity to the dumb waiter, with, for example, 'insulation debris to floor' in one location.
9. But even more striking was the situation in the basement where there were 17 and 66 'high priority/risk' and 'medium priority/risk' cases, respectively.
10. Moreover, as regards the basement, there were several aggravating factors.
11. First, a large number of the cases involved amosite, or brown asbestos, generally considered to be the most lethal variant.
12. Second, while in a good proportion of cases the asbestos was covered by a coat of paint, in other cases it was in 'debris' on the floor, or 'exposed' on walls and ceilings.
13. Third, as to specific locations, asbestos was found, to take some examples, in the boiler rooms, the water feature plant room, and in various passageways, all places where there was the potential for human contact.
14. Fourth, there are indications that in approaching these cases Environtec was not being guided, as it should have been, by LBWF documentation (the several previous asbestos surveys, records of building work, etc.), and indeed was hazy about what had gone before, so that it twice notes, in relation to asbestos on walls, 'remediation works appear to have been conducted' [emphasis added].
15. Inevitably, you may be inclined to retort that none of this matters because the basement was often closed during the period in question.
16. However, whether such a claim stands up to scrutiny is doubtful.
17. Data released under the Freedom of Information Act shows that closure of the basement, or parts of the basement, between July 2012 and June 2020 occurred as follows: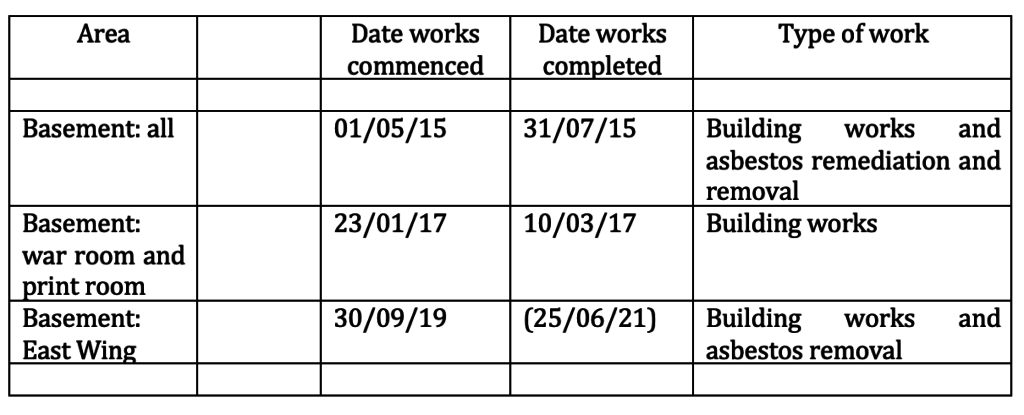 18. Thus, though closure certainly happened, the reality is that prior to June 2020 most of the basement was open for most of the time.
In the light of the foregoing, please will you
(a) explain why, despite assurances to the contrary, high and medium 'priority/risk' asbestos remained in place in the Town Hall, and particularly the basement, right up to June 2020;
(b) state whether staff were advised of this situation, and if so, exactly when and how often; and
(c) provide reassurance that from 2013 onwards those who worked at the Town Hall or visited it, were at all times appropriately protected from any contact with asbestos fibres that might threaten their health.
Yours sincerely,
Nick Tiratsoo
181 Odessa Rd.
London E79DX