Cllr. Liaquat Ali's new Cabinet role: a square peg in a round hole?
A couple of weeks ago, the incoming LBWF Leader Clare Coghill announced her first Cabinet, and one of the most notable developments is that she has moved Cllr. Liaquat Ali MBE JP from the community safety portfolio to take on 'Transformation and Commercial Operations', covering everything from 'digital and smart technology', via 'revenues and benefits', and 'civil contingencies', to 'financial sustainability'.
This is self-evidently an exacting and complex brief, requiring detailed technical expertise, and it is reasonable to ask whether Cllr. Ali is an appropriate appointment.
It needs to be pointed out straightaway that Cll.Ali has considerable experience of local government matters, having sat on the Labour benches continuously since 1994, been responsible for several important Cabinet portfolios, been Mayor, and also a member of the London Fire Authority, the London Councils Grants Committee, and the London Councils Leaders' Committee.
But it is equally fair to add that Cllr. Ali's career has not been without its controversies, which have encompassed amongst other things his own infraction of council planning rules; his flouting of local school attendance requirements (prompting one of his peers to comment 'Only in Waltham Forest could…[a] councillor convicted of keeping his own child out of school illegally be put in charge of children's services'); his involvement in surreptitious Town Hall award ceremonies, celebrating such dubious characters as the far right Pakistani politician, Sirajul Haq; and most recently his failure to attend meetings of the LBWF Safer Neighbourhoods Board, despite on paper being one of its leading members.
As to life beyond the Town Hall, and especially in the context of his new position's responsibility for financial and IT matters, Cllr. Ali's known activities seem modest.
In particular, his experience of business is surprisingly limited.
He appears to have held three directorships, two ex-offcio, and one in relation to a company he founded in 1998 and ran until 2009, Star Mortgages & Insurance Services Ltd. (company number 03501553).
The latter initially made modest profits, averaging c. £5,000 p.a., but from 2004-05 returned only after tax annual losses, such that in 2009, when Cllr. Ali stepped down, the company's liabilities were substantially bigger than its available assets.
Meanwhile, Companies House had threatened compulsory strike off on no less than three different occasions, presumably because basic reporting requirements were not being completed in timely fashion.
Post Star, Cllr. Ali habitually describes himself as 'a landlord', and appears to own residential property in Walthamstow and Leytonstone, a situation that both Private Eye and Guido Fawkes have commented upon (see the previous posts referenced below), with the information uncovered giving pause for thought.
So taking all of this into consideration, whether Cllr. Ali is suited to his new portfolio is perhaps more of an open question than at first sight might be imagined.
Quite what informs the new Leader's thinking here is unexplained.
Perhaps her close association with Cllr. Ali over the years allows her a deeper (and thus more sympathetic) appreciation of his attributes.
Perhaps the talent pool available to her is restricted.
Or perhaps it is not aptitude but politics that is uppermost in her mind, and, given the disputatious and faction-riven nature of the local Labour Party, she judges it wise to keep Cllr. Ali close at hand.
Whatever the truth, this blog will certainly be watching developments with interest.
Needless to say, for good administration, it is imperative that all Cabinet portfolio members master their briefs, as otherwise the danger is that either they may be led by senior officers, who in turn often will have their own agendas, or they simply fall in with the wishes of the 'Strong Leader', whether merited or not.
PS on a lighter note, this picture stands repetition.  Cllr. Ali and his brother are centre stage, flanking one-time Cabinet member Andy Burnham, with Cllrs Coghill and Robbins (the then Leader) in the back row, left and right: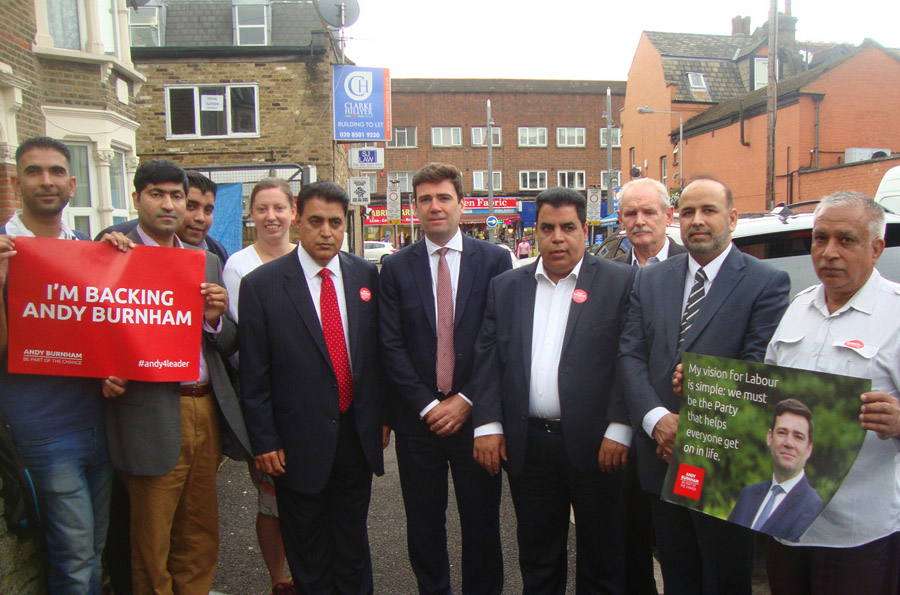 Sources:
http://www.guardian-series.co.uk/news/9529683.WALTHAMSTOW__Leading_councillor_rapped_for_breaking_planning_rules/
http://www.guardian-series.co.uk/news/4390367.WALTHAM_FOREST__School_fine_mayor_is_new_education_boss/
http://www.guardian-series.co.uk/news/9429878.WALTHAM_FOREST__Councillor_made_MBE/